[02/08/2019 08:34]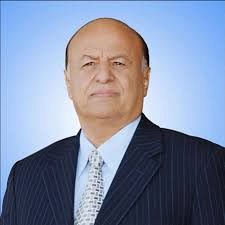 RIYADH-SABA
President Abd-Rabbo Mansour Hadi phoned Friday evening Deputy Prime Minister, the Minister of Interior Ahmad al-Maysary and Governor of Aden Ahmad Salem Rabi' on different situations in Aden and nearby provinces.

President confirmed that all must work on integrating efforts and protecting social fabric in facing the enemy of Yemeni people across the country and hotlines with Houthi rebel militia.

He pointed out to big sacrifices made by Aden, Lahj, Abyan, Dhale', Taiz and other provinces for regaining the state in these provinces and realizing security and stability to citizens.

President stressed importance of realizing security and stability and discarding individual acts against the people from any province as these acts harm "our traditions and their original values" and serve onlyHouthi rebel militia and terrorist groups supporting Houthis.

He directed local authorities in provinces of Aden, Lahj and Dhale' to stop any outlaw practices against citizens and their private possessions. He also directed discarding falsified practices carried out by some on regional or political resentments after the terrorist attacks in Aden yesterday.

He stressed significance of unifying fronts and integrating efforts for facing Houthi coup and regaining the state and liberating the rest areas to reach to Sana'a for building the New Federal Yemen.

President shouldered the governors and security commanders in liberated provinces the responsibility of not doing well on implementing these directives and stressed shouldering responsibility for protecting citizens and their possessions.

He called all government bodies and state apparatus and other forces to stand united in facing Houthi insurgency supported by Iran.




---

President al-Alimi confirms independence of Judiciary

President al-Alimi holds a meeting with Defense Minister, Commanders of Fourth Military Region

President al-Alimi holds session with Board of Directors of the Central Bank

Chairman of Leadership Council stresses importance of strengthening role of control and audit agencies

President al-Alimi directs forming committee to control fish prices

President al-Alimi receives credentials of new Portuguese ambassador to Yemen

President al-Alimi receives European ambassadors

Brig. Bashir Saif Ghobair appointed as Commander of the Homeland Shield Forces

A decree by Chairman of the Presidential Leadership Council about establishing homeland shield forces

President al-Alimi returns to Aden