[03/04/2018 01:42]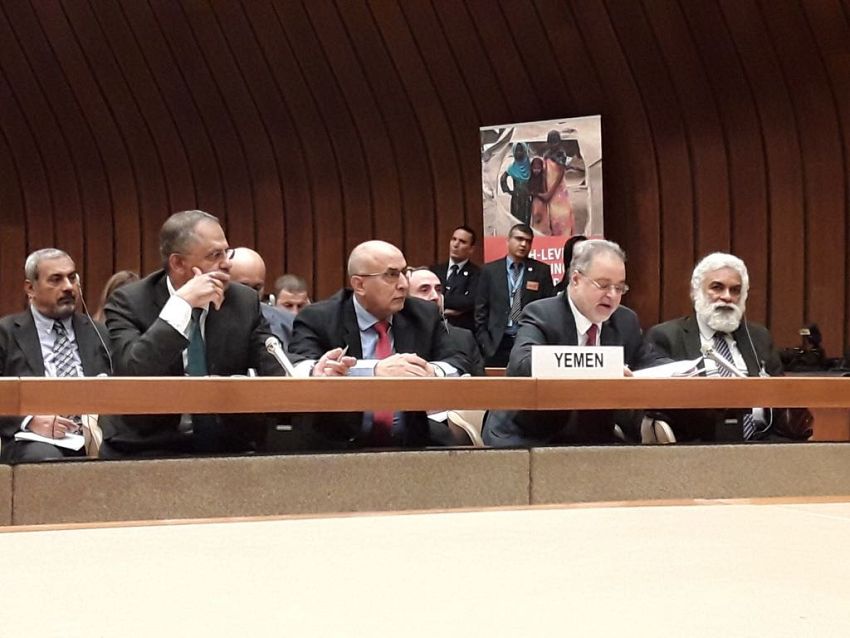 GENEVA-SABA
Yemen's Foreign Minister has said that no matter how much humanitarian aid is mobilized to Yemen, only the Houthi rebels' "return to the dialogue table" will resolve the Yemeni crisis.

In a keynote speech in a U.N. conference of humanitarian donors for Yemen in Geneva on Tuesday, Abdul-Malik al-Mekhlafi said "whatever resources are mobilized, whatever assistance is supplied, the ideal solution to resolve the humanitarian crisis would be the return to the dialogue table, to end the coup d'état and achieve peace based on the three terms of references that the Yemeni people have unanimously agreed upon."

"We have to realize that this humanitarian crisis is not natural. It is rather man-made, a direct outcome of the Houthis' coup d'état and war they imposed against the Yemeni nation."

He said that the humanitarian work faced numerous impediments in the past years; last year alone the rebel militia seized 65 vessels and 580 trucks laden with food aid supplies, bombed four other laden trucks, confiscated and sold in the black market thousands of food aid packs, and increased the prices of commodities by illegal levies through customs ports they created inside cities. Just two days ago, the rebels set ablaze the warehouses of the World Food Program in Hodeidah seaport destroying huge quantities of food and relief aid that the local people direly need and wasting in vain the donors' funds."

"The rebels' abuses against banks and money exchange businesses increased the chances of collapse of the banking systems," he said.

One of the solutions to prevent Houthi confiscation of aid, he said, is to apply the principle of aid decentralization; to distribute donated aid into five dispersed centers that will cover the whole country easily.

He said that Houthis collect most of the state resources and last year alone, they levied $2.5 as revenues from Hodeidah seaport and the tax returns from the telecommunication sector, tobacco, oil and other companies, a figure that the UN Security Council's Sanctions Committee has confirmed. "It is not fair or rational that the rebels harness those funds for war at the expense of state employees and the public services facilities of health and education in the areas they control," he said.

"Versus that, the government announced has announced a budget for the year 2018 despite the scarcity of resources. It will do its best to meet the commitment s in the budget despite the 33% deficit."





---

Government Source: Terrorist Houthi militia's attack on Taiz Governor clear indicator of its rejection of peace

Al-Eyrani condemns Houthi militia's assassination attempt against Governor of Taiz governorate

Parliament condemns Houthis' attack on Governor of Taiz, calls for designating Houthis a Terrorist Group

Al-Sharjabi meets Under-Secretary-General of the United Nations

Minister of Defense visits joint forces on the West Coast

Brigadier General Tariq Saleh chairs a joint military meeting in Mocha

Minister of Water meets Regional Director of the World Bank

Rights organization condemns Houthi violations against civilians in Ibb Governorate

Al-Sharjabi discusses with the Under-Secretary-General of ESCWA promotion of cooperation

PM directs social affairs ministry to double efforts in these difficult conditions