[29/07/2017 05:38]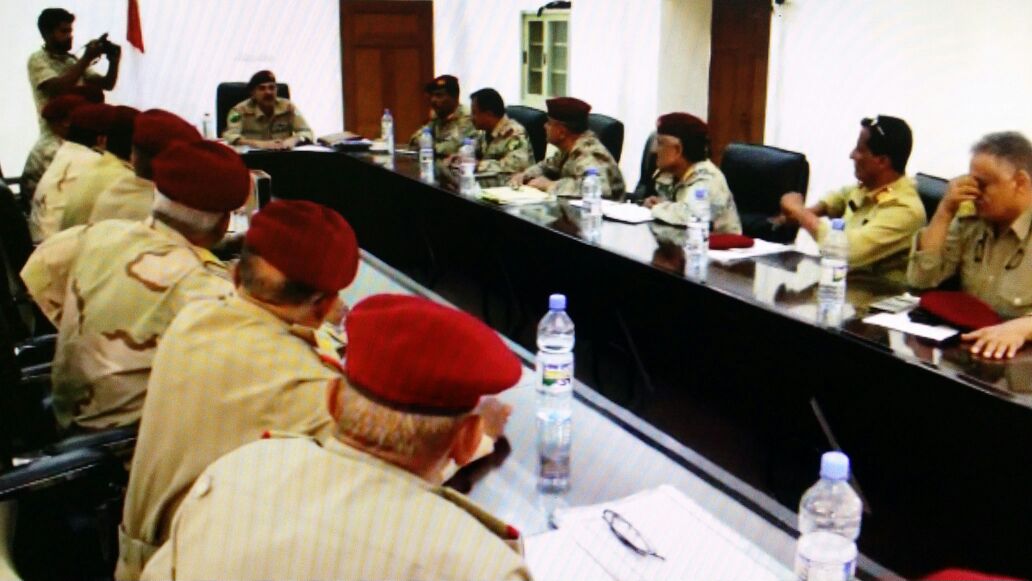 ADEN-SABA
The Saleh-Houthi rebel militias used the strategic militaryKhaled camp, north of Taiz, a launch pad for their terrorist operations, a senior army general said Saturday.

In a regular meeting of top armed forces leaders in Aden, the Deputy Chief of Staff Maj. Gen. SalehAzandani said: "The camp was a center for training militants, a launch pad for their terrorist operations in the government-held areas including the temporary capital city, Aden, international shipping lanes in the Red Sea including Bab al-Mandab strait."

A few days ago, the army managed to dislodge the coup militants from the strategic and large camp after month-long battle.

Azzandani expressed his gratitude to the Arab coalition led by Saudi Arabia and the UAE for their role in liberating the camp, one of the most impregnable fortresses of the Saleh-Houthi militias.

The control of it brings the army closer to cutting of the rebels' supply line of weapons from Hodeidah to Taiz,the city which the rebels have been besieging for more than two years.

The top brass discussed a number of other topics on their agenda including the inauguration of two military colleges and a training center in al-Anad airbase, scheduled for September the 1st, as per President Abdu R. Mansour Hadi's directives.



---

F.alhusary: Al-Eryani meets with Chair of Spanish Parliament Committee on Foreign Relations

FM discusses with Italian counterpart latest developments in Yemen

VP acclaims troops' heroic fighting against Iran-backed Houthi militiamen

FM, Italian SP review Yemen developments

Dep. Interior Minister stresses importance of international cooperation in combating terrorism

Al-Wali and Al-Qobati discuss strengthening cooperation with UNCTAD

VP congratulates Emirati counterparts on the Golden Jubilee of National Day

FM meets WFP deputy CEO

Yemeni-Turkish security cooperation discussed

Al-Saadi discusses with Norway's UN representative raising cooperation