[15/03/2023 01:33]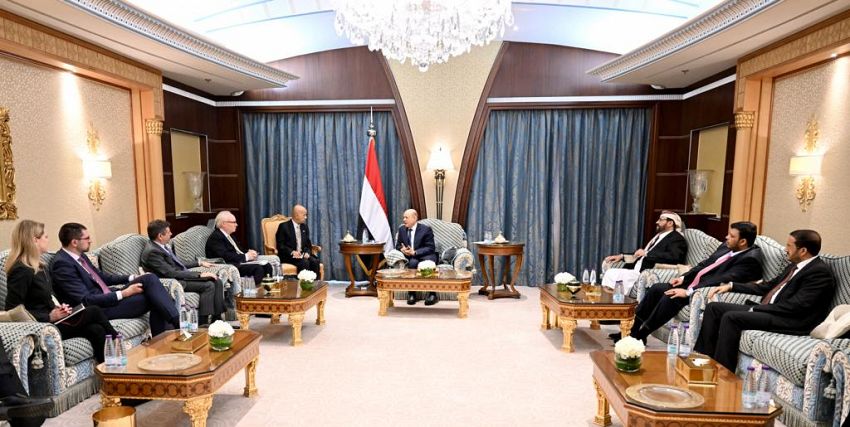 Riyadh - Saba
President Dr. Rashad Muhammad Al-Alimi, the Chairman of the Presidential Leadership Council and other council members received today the United States envoy, Timothy Lenderking, and the American Ambassador, Steven Fagin, to discuss developments in regional and international efforts aimed at reviving the path of Peace in Yemen.

In the meeting, the President of the Presidential Leadership Council and the members of the Council were briefed on the results of the international contacts in which the United States is participating in light of the intransigence of the terrorist Houthi militia regarding the efforts to renew the truce and build on it in order to end the suffering of the Yemeni people and achieve their aspirations for restoring state institutions, peace, stability and development.

The President of the Presidential Leadership Council welcomed all good endeavors to achieve comprehensive and sustainable peace, according to the references agreed upon nationally, regionally and internationally, in a manner that guarantees an end to the causes and repercussions of the crisis, prevents the recurrence of cycles of violence, and fulfills the aspirations of the Yemeni people to build a national state that respects rights, freedoms, and equal citizenship.

The Chairman of the Leadership Council called on the American mediator and the international community to deal with caution with what the Houthi militia and mostly its Iranian supporters, and not to provide any additional incentives to the Houthis, without guarantees the Houthi militia will seriously deal with peace initiatives, abandon its racist ideas, and the subversive Iranian project in the region.


---

Leadership Council chairman receives China's acting ambassador

President al-Alimi receives Ambassadors of European Union, the Netherlands

President al-Alimi calls for general reconciliation in Aljawf governorate

President al-Alimi congratulates on Irish National Day

President al-Alimi attends US celebration on opening first mission in Yemen

President al-Alimi receives UN envoy for Yemen

Leadership Council chairman receives US envoy

President al-Alimi congratulates Chinese President on his election for third term

Presidential Leadership Council holds session to discuss national developments

Presidential Leadership Council members meet Saudi Crown Prince