[26/03/2022 08:04]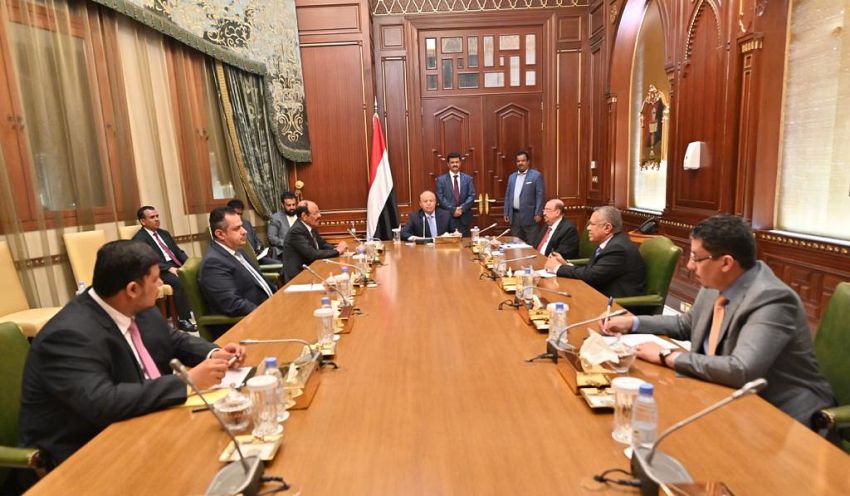 RIYADH - SABA
The President of the Republic Abd-Rabbu Mansour Hadi presided over an extraordinary meeting today of the country's senior leaders included Vice President Ali Mohsen Saleh, Speaker of Parliament Sultan al-Barakani, Prime Minister Ma'een Abdulmalik and Speaker of Shura Council Ahmed Obeid bin Dagher.

The session aimed to discuss the latest military, political and economic developments in the national arena.

The President stated that this session comes amid large-scale escalation by Iran-allied terrorist Houthi militia at the moments the brethren in the Kingdom of Saudi Arabia (KSA) and GCC's member states are calling for Yemeni-Yemeni consultations to end the war, establish peace this criminal militia has continued its aggressive war on Marib governorate and targeting economic and civil facilities in the KSA.

Hadi said" While the Yemenis are looking forward to see the efforts of the brothers in the GCC succeed in putting an end of the Yemeni peoples' suffering because of this war, the terrorist Houthi militia is dashing the Yemenis' hopes away, goes on its criminal aggression on the Yemeni people and the brothers in the KSA".

The meeting renewed welcoming the GCC's call for holding Yemeni-Yemeni consultations at the headquarters of the GCC's General Secretariat in the Saudi capital Riyadh during the time from March 29 to April 7,2022.

The session highly appreciating the sincere efforts have been made by the GCC's member state the Saudi-led coalition in support of legality in Yemen and their support for all efforts aim to re-establish security, stability and achieve peace that is based on the three terms of reference included the GCC's Initiative, its operational plan, the outcomes of the National Dialogue and the UNSCRs in relevant, namely 2216.

The meeting condemned with the strongest terms the continuation of the Iran-backed terrorist Houthi militias' attacks on the civil and economic facilities and energy sources in the KSA while regional and international efforts are seeking to end the war, preserve the Yemenis' bloods and maintain security and stability of the region.

The meeting reiterated Yemen's full support for the all measures the KSA takes counter terrorist actions, affirming that the Yemeni people will never give in for these criminal gangs nor accept the Iranian experiment, rather the Yemenis will keep on struggling for eliminating the coup, reinstate the official authority.


---

President al-Alimi receives Norwegian foreign minister

Leadership Council chairman meets US Secretary of State

Leadership Council chairman receives UN Special Envoy

resident al-Alimi congratulates Italian President on his country's National Day

President al-Alimi receives American Ambassador

Leadership Council chair praises GCC for supporting Yemen and its just cause

President al-Alimi congratulates Turkish president on winning elections

President al-Alimi convenes high-profile meeting includes Speakers of Parliament, Shura Council

President al-Alimi praises UK's support for the Yemeni people

President al-Alimi receives Ambassador of the People's Republic of China