[23/07/2019 06:57]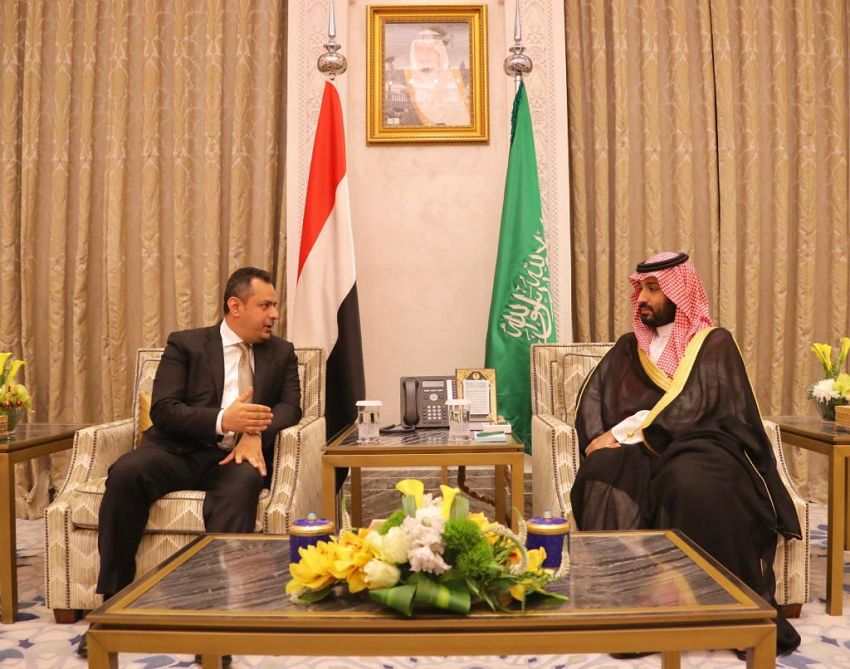 NEOM- SABA
Yemen's Prime Minister has thanked the Saudi King, Crown Prince, government and whole people for saving Yemen from the "most dangerous sectarian bloody rebellion in the history of the country."

In a meeting with the Saudi Crown Prince Mohammed bin Salman here today Maeen Abdulmalik, was referring to the Saudi-led Coalition's military intervention in 2015 to end the Houthi coup that had begun in September 2014. "This (Saudi) intervention is not unfamiliar from the brotherly Saudis who have stood by Yemen's side in the most difficult circumstances."
He appreciated the Saudi military, humanitarian and economic support to Yemen and cooperation with the country.

The talks went over the Houthi stubborn rejection of all peaceful political solutions and of the binding international resolutions. Abdulmalik highlighted his government's openness to serious political solutions to spare Yemen any further bloodshed.

They addressed the Houthi repeated breaches of the Hodeidah ceasefire, continuous drone attacks and threats that the militia pose to international shipping.

They also discussed the humanitarian crisis left by the Houthi war and the efforts to alleviate it through King Salman Humanitarian Aid and Relief Center, the Saudi Program for Yemen Reconstruction and other forms and generous Saudi support initiatives.

Abdulmalik said the government has always been open to peace but the Houthi militia are stubborn in sidestepping all peace initiatives in disregard to the lives and blood of the Yemeni people.

The Saudi Crown Prince on his part renewed Saudi Arabia's support to Yemen on the economic, humanitarian and development levels. He affirmed his support to the Yemeni government in normalizing life in the provinces under its control by providing basic services, economic stabilization and countering terrorism.

He pointed out that Yemen's security is an integral part of the security of Saudi Arabia, the Arabian Gulf states and the whole region.


---

Water Minister participates in the first high-profile meeting on the fair transition

Yemeni embassy in Riyadh first station abroad to see launching of smart ID cards

Yemen condemns Israeli occupation forces' resumed aggression on Gaza

UN Security Council condemns acts of piracy and attacks on ships by the Houthi militias

President al-Alimi warns of delay of facing challenges of climate changes

President al-Alimi holds meetings with participating presidents in COP 28

President al-Alimi, Member of PLC al-Zubaidi participate in COP 28

A sister city agreement signed between Taiz and Djibouti governorates

Yemen, Morocco sign judiciary cooperation agreement

Prime Minister initiates roundtable discussions between government and UN in Aden