[17/04/2019 01:44]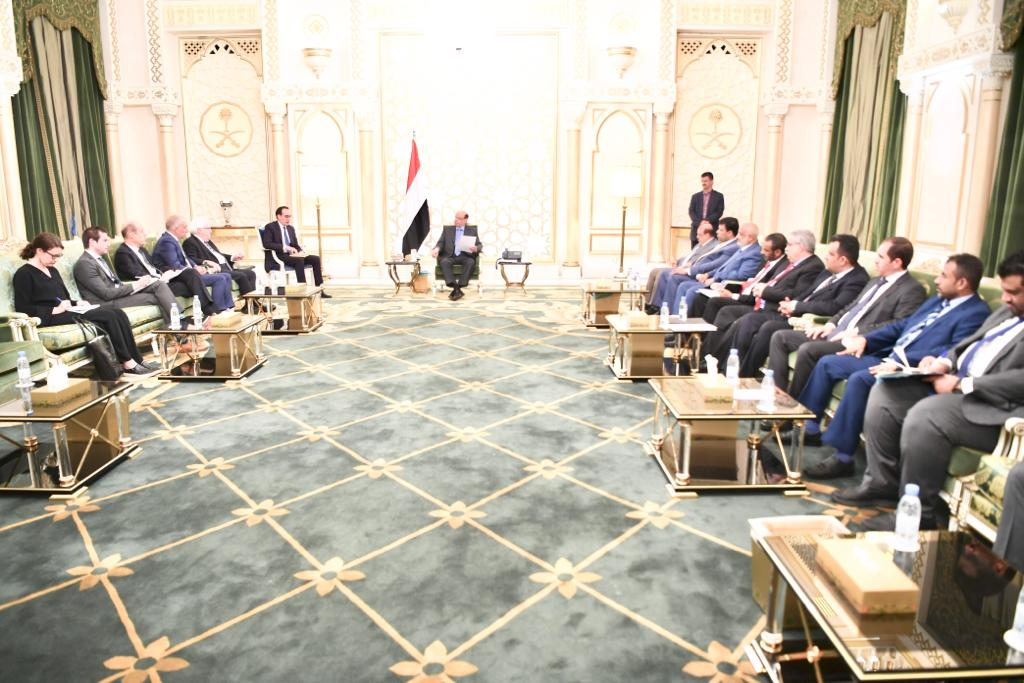 RIYADH-SABA
President Abd-Rabbu Mansour Hadi along with Speaker of Parliament Sultan al-Barakani received the UN's Special Envoy to Yemen Martin Griffiths and Head of the Redeployment Committee in Hodeidah Maj. General Machael Lollisagard.

The Head and members of the government's team engaged in the Redeployment Committee in Hodeidah were in presence.
The session aimed to discuss the UN's efforts to implement the Stockholm Agreement.

President Hadi said" The Yemeni government is committed to make peace as this an objective and choice we have always been seeking for in different stages and circumstances, by the end of the day we'll have sit down together discuss peace".

The President went on saying" To this end, we have already made concessions repeatedly in spite of the putschist Houthi militia's intransigence and reluctance to implement the agreements reached to, most recent of all is Stockholm Agreement, four months have passed yet the militia has kept on foot-dragging, capitalizing on the Yemeni peoples' suffering to gain more personal and sectarian gains".



---

Yemen won't be fine as long as terrorist militias continue to kill & besiege our people, says Hadi

Hadi phone calls Marib governor to inspect situations

Hadi checks on health of Aden Governor, Minister of Agriculture

President Hadi orders probe into assassination attempt targeted Aden Governor, Agriculture Minister

President orders providing relief aid to those affected by the floods in Hadhramaut

President directs providing help to people in Hadhramout over heavy rains

President Hadi congratulates his Egyptian counterpart on the 6th of October Victory

President congratulates German counterpart on unity anniversary

President Hadi to Borrell: Our hands are still extended for peace

President Hadi meets German deputy foreign minister