[14/11/2018 05:34]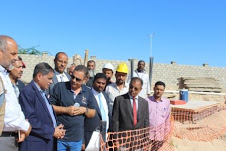 SA'YOON-SABA
Governor of Hadhramout, the Commander of the Second Military Zone General Faraj al-Bahsani inspected on Wednesday the ongoing work in the sanitation project in Sa'yoon and Tarim cities.

With the cost of USD 65 million, the project is co-financed by the government and the Arab Fund for Economic and Social Development.

The governor and his deputies inspected the accomplished work of the project since its resumption on July this year. Al-Bahsani urged the concerned body to complete the project quickly and to commence setting up sewage network.
The projected is sponsored by Egyptian Engineering and Consultants Company.




---

US: Houthis undermine international efforts to find solution to conflict

PM orders prompt investigation into assasination of Aden education official

VP says Houthi targeting of Marib IDPs and Saudi civilian places indicates Iran's terrorism

Polish humanitarian interventions in Marib discussed

Ksrelief inaugurates Food Security Project in Marib

Marib Dep. Governor calls on UN's agencies to step double down efforts to relief IDPs

PM,US Special Envoy discuss Yemen developments

Yemeni-Iraqi cooperation discussed

Chief of Justice praises UNDP support for Judiciary

Baggash appreciates ICRC actions in Yemen