[26/11/2022 11:51]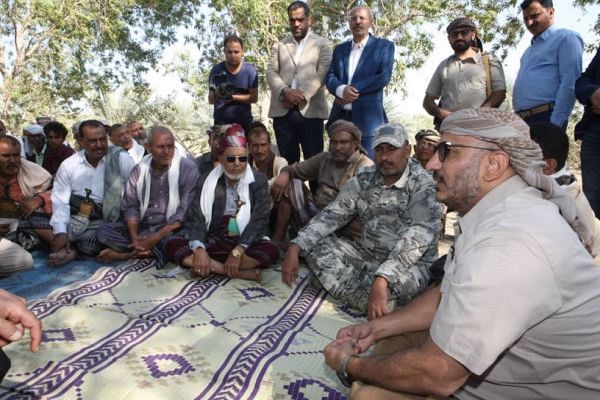 Dhubab-Saba
Member of the Presidential Leadership Council, Brigadier General Tariq Saleh, discussed with the sheikhs and notables of Dhubab district in Taiz governorate, the concerns and issues of the people of the district in various fields.

Brigadier General Tariq said, "Sheikhs and dignitaries bear the responsibility of cooperating with the army and coast guard forces to confront the dangers looming in the region, especially since the Iranian scheme wants to harness the region, and make Bab al-Mandab similar to the Strait of Hormuz, through its arm the Houthi militia, which is trying to harm the security and safety of international navigation in the region of Bab al-Mandab.

He stressed the importance of the role of the sheikhs and notables of the region in deterring anyone involved in smuggling operations for the benefit of the Houthi militia, indicating that the Coast Guard forces will strike with an iron fist anyone who begs himself to work for the Houthi militia and cooperate with it in smuggling weapons and contraband or threaten the security of global trade in the Bab al-Mandab.

Brigadier General Tariq Saleh indicated that the Mukha port is ready to receive goods, and sheikhs, notables and dignitaries of coastal areas should report any merchant who seeks to bring his goods in an illegal manner that harms the state's economy and
the lives of citizens, since these goods are not subject to control and good storage and do not meet quality and safety standards.

He called on the sheikhs and notables of the district to communicate with the people of the region who are still in the ranks of the terrorist Houthi militia, so that they can return to their villages as good citizens. He stressed the importance of cooperation and solidarity between sheikhs, notables, and local authorities in a way that serves the interest of citizens.


---

Al-Eradah confers with Swedish Envoy peace efforts, Houthis' escalation

Al-Zaori discusses with NDI joint cooperation issues

Prime Minister reiterates commitment of the government to peace approach

Leadership Council Chairman stresses private sector's leading role in development

Yemen expresses solidarity with bothers in Syria, Turkey over earthquake

Brig. Gen. Tariq Saleh orders speeding up operation of Internet services in liberated regions

Banaja: CBY grants 6 licenses to microfinance banks

Al-Eradah confers with Lenderking over developments in Yemen

Leadership Council Chairman receives German delegation

Resumption of international flights at Al-Rayyan Airport in Hadramout