[18/06/2022 07:18]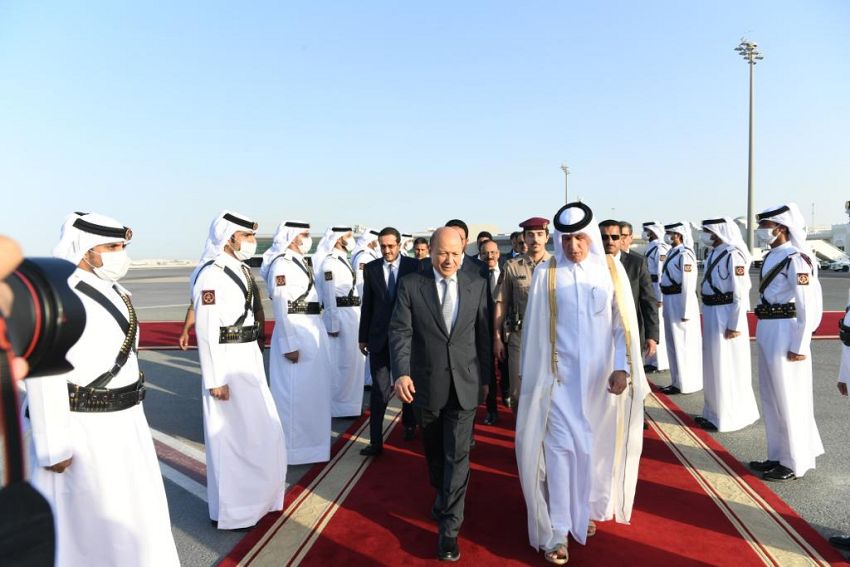 DOHA - SABA
His Excellency President Rashad al-Alimi, Chairman of the Presidential Leadership Council (PLC) along with his high-profile accompanying delegation left the Qatari capital Doha today, Saturday, flying to Riyadh, before returning to the temporary capital Aden.

During his three-day state visit to Doha the President held talks with His Highness Sheikh Tamim bin Hamad al-Thani, Emir of the State of Qatar and senior Qatari officials.

The Yemeni-Qatari official talks covered a range of issues including bilateral ties, latest developments about the UN-led efforts to make peace in Yemen and the needed Qatari support for the PLC's efforts to achieve economic, security reforms, improve basic services and establish peace and stability in Yemen.

In a statement to the Yemeni News Agency (Saba) upon his departure Doha, al-Alimi praised the outcomes of the successful visit, voicing thanks and gratitude to His Highness Sheikh Tamim bin Hamad al-Thanni, Qatari government and people for their cordial reception and hospitality that will further bolster the distinguished relations between the two countries.


---

President al-Alimi congratulates on India's independence

President al-Alimi congratulates on Indonesia's independence

The President of the Presidential Leadership Council heads to Abu Dhabi on an unofficial working visit

President of the Presidential Leadership Council meets Presidency of the Consultation Commission

Chair of the Presidential Leadership Council receives credentials of the Libyan ambassador

Appointing Faez Qahtan, Commander for Second Military Region

President meets with Parliament Speaker, MPs on latest developments

Presidential Council chair puts Yemeni people before the reality of the situation in Shabwa

President and members of the Supreme Judicial Council

Leadership Council holds first meeting with the judiciary