[30/09/2018 03:52]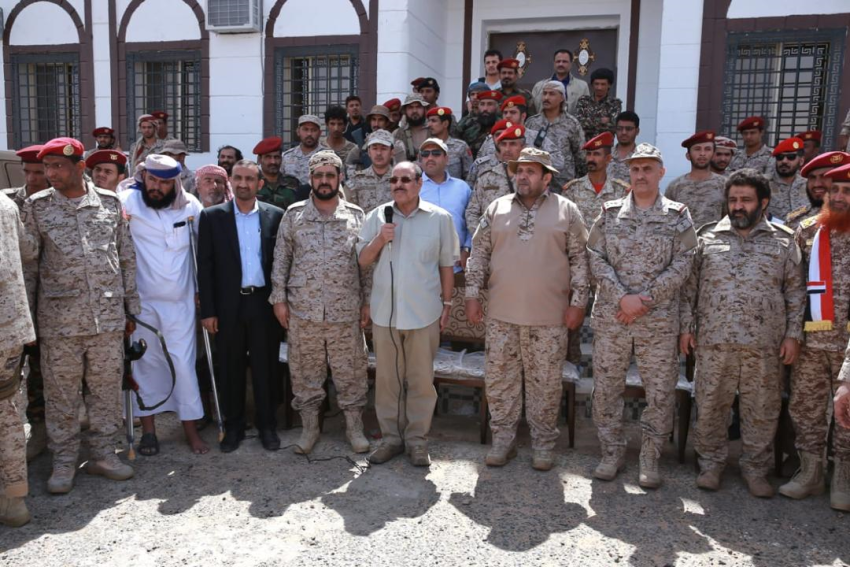 SA'ADAH-SABA
Vice President (Lt Gen) , Deputy Commander-in-Chief Ali Mohssen Saleh paid Sunday an inspection visit to the military units of the government's troops in Sa'ada-Al-Boq'a axis. His trip aimed to get firsthand knowledge about the military units' situations and combat operations.

He held a meeting included commanders of Sa'ada's axis, units of the troops stationed there and commanders of the Arab Coalition Forces.

(Lt Gen) Mohssen extended his own felicitations and the Commander-in-Chief, Field Marshal President Abd-Rabu Mansour Hadi's to the commanders, ranks and troops on the occasion of the Yemeni Revolution September and October.

Then, he was briefed on the ongoing combat operations and the deployment of the national military troops. He applauded the significant advancements gained by the troops in battling Iran-backed Houthi militia, highly appreciating the sacrifices have been extended by the troops, praising substantial support by the Saudi-led Arab Coalition.

The Vice President stated that the legitimate government along with Arab Coalition are determined to go on battling the Houthi putschist militia and reestablishing sustainable peace that puts down the coup and reinstates the legitimate authority.

He cited the security, economic and humanitarian crisises that Yemeni people have been struggling with as a result of the Iran-allied Houthi militia's coup d'état.

(Lt Gen) Mohssen witnessed a military parade carried out by symbolic units of Sa'ada's axis troops to celebrate the 56th Anniversary of 26 September Revolution and the 55th Anniversary of October Revolution.

He gave a word on the occasion in which he asserted that Houthi's idea is strange, illogical inconsistent with the proposal of the democratic and Republic State. Therefore all Yemeni people will never accept or surrender to the militia's control.

After that the Vice President got familiar with the reconstruction efforts aimed to repair the government's border's exit facility which seriously damaged by Houthi militia. He also paid an inspection trip to the market of Al-Boq'a. The market almost appeared to be entirely ruined.


---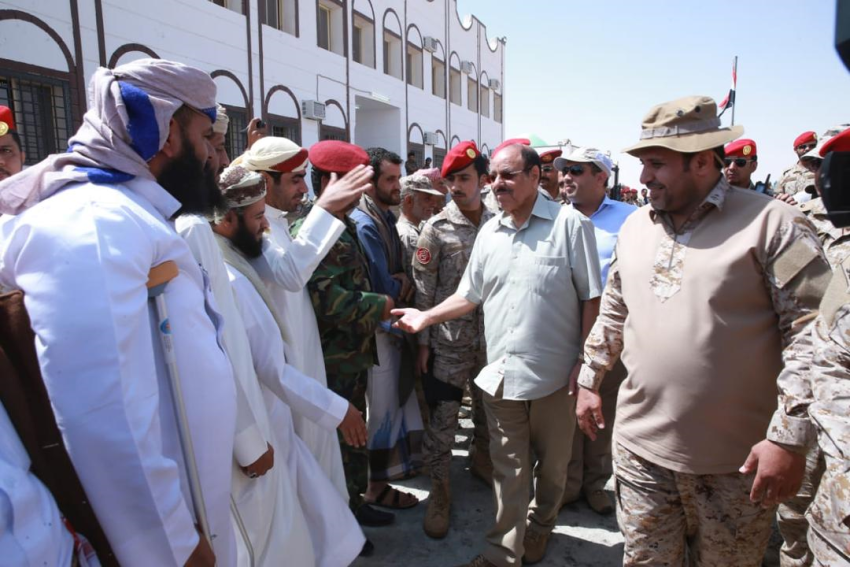 President al-Alimi warns of delay of facing challenges of climate changes

President al-Alimi holds meetings with participating presidents in COP 28

President al-Alimi, Member of PLC al-Zubaidi participate in COP 28

A sister city agreement signed between Taiz and Djibouti governorates

Yemen, Morocco sign judiciary cooperation agreement

Prime Minister initiates roundtable discussions between government and UN in Aden

Dep. Chief of Staff talks with European Ambassadors over Houthi militias' escalations

Minister Buhaybeh, UNFPA representative discuss interventions in health sector

Chairman of Presidential Council arrives in Dubai to participate in climate summit

Foreign Ministry condemns Dutch parliamentarian's denial of the rights of Palestinian people