[20/09/2018 04:38]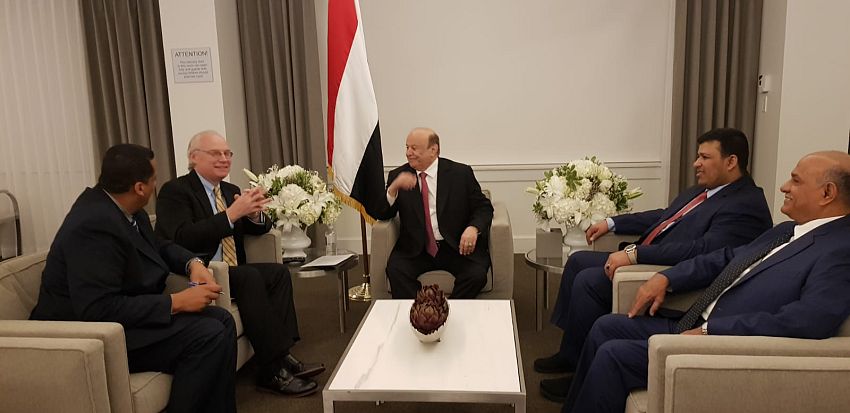 WASHINGTON-SABA
President Abd-Rabbu Mansour Hadi has asserted that Yemeni-American relations are strong, based on mutual cooperation and understanding about several dossiers which are relating to Yemen and regional and international level.

His statement came as he met Thursday here with the US Deputy Assistant Secretary of State for the Bureau of Near Eastern Affairs Tim Lenderking.

During the meeting President Hadi briefed Lenderking on the latest developments and challenges that Yemen has been facing because of the Iran-backed Houthi militia's coup which was carried out with Iran's support to serve the Iranian regime's desires to create disturbances not only for Yemen but also for the entire region.
President Hadi voiced Yemen's support for the US strategy and President Trump's toward Iran and the terrorism. He stated that " We in the Republic of Yemen has supported that strategy to achieve the common objectives and interests". Hadi highly appreciated the US administration's support the Yemeni legitimate government and peoples.

His Excellency (HE) has made clear that the legitimate government is very keen on establishing the fair and comprehensive peace that is based on the GCC's Initiative, its operational plan, outcomes of the National Dialogue and UNSCRs in relevant, namely 2216.

HE said :" The Yemeni government has repeatedly proved seriousness and honesty with every attempt aimed to make peace, whereas the militia has frequently proved the opposite, pays no attention to the Yemeni peoples' suffering, it rather deliberately aims to further exacerbate the Yemenis' ordeal, hindering the delivery of humanitarian aids to the people in need, continuing to squandering the state's resources, creating unbearable hardships and extremely deteriorated economic situation the country has been struggling with now".

For his part, Lenderking reiterated his country's support for Yemen and constitutional legitimacy, Yemeni people and UN's resolutions in relevance to achieve the Yemeni peoples' aspirations for eliminating the coup and re-establishing security and stability. He also reiterated the US's opposition to the Iranian's interferences in the region and its support for Houthi's militia".


---

Leadership Council chairman receives UN Special Envoy

resident al-Alimi congratulates Italian President on his country's National Day

President al-Alimi receives American Ambassador

Leadership Council chair praises GCC for supporting Yemen and its just cause

President al-Alimi congratulates Turkish president on winning elections

President al-Alimi convenes high-profile meeting includes Speakers of Parliament, Shura Council

President al-Alimi praises UK's support for the Yemeni people

President al-Alimi receives Ambassador of the People's Republic of China

President al-Alimi discusses with UAE President latest developments in Yemen

President al-Alimi arrives in Abu Dhabi