[01/07/2018 02:18]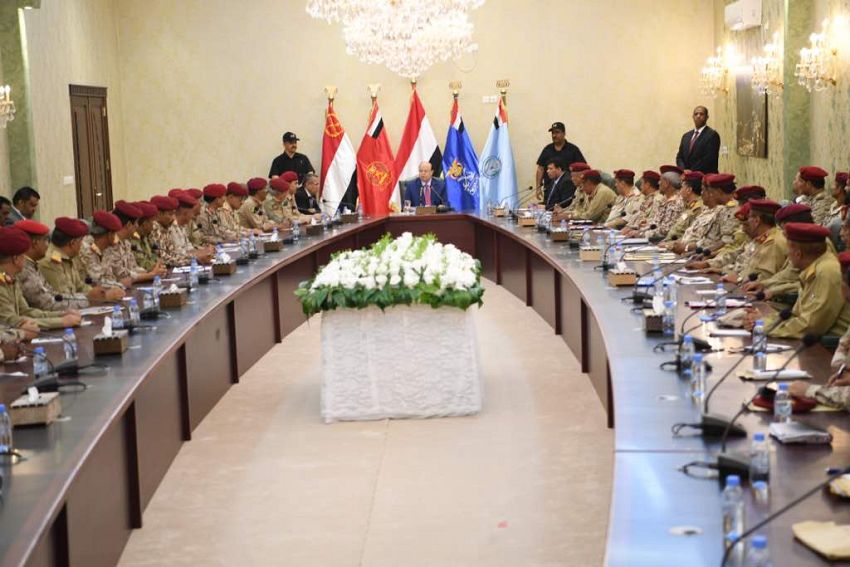 ADEN-SABA

President Abd-Rabbu Mansour Hadi has said any negotiation or political settlement must be based on active implementation of the UN Resolution 2216 and handing over the state institutions and weapons.

" But promises and submission to peace during defeat, and coupists as always do breach all accords and agreements, has become obsoletely unacceptable and our people and homeland can no longer tolerate more cheats for prolonging this …war," said President in a meeting for the commanders and personnel of the ministry of defense and the Forth Military Region on Sunday.

"Herewith, I say clearly to Houthi Militia and their supporters in Tehran whether implementation of the three agreed upon references without selection, deception and delay or you alone bear the results of stubbornness and elusion.

President Hadi included in his speech military ground situation in the country and efforts of normalizing conditions in different liberated areas after suffering over the war triggered by Houthi rebels on Yemen and on national consensus, praising efforts and support of the countries of the Saudi –led Coalition and active contribution of the United Arab Emirates.

I congratulate you and all affiliates of military and security forces and people resistance on great victories you accomplish in battlefields of defending Yemen and protecting security of gulf and the international navigation with support from Saudi-led Coalition and active participation of the UAE, he said.

"These victories in different fronts and field advance in the western coast, Hodeida, Sa'ada, Baidha', Haradh, Taiz and others…. confirm our objective of eradicating the most dangerous Iranian expansion agenda is about to be achieved," he said.

He further said my meeting with you, you brothers at the defense ministry and the Forth Military Region is within continuation of communication, my daily follow up and my lasting communication with the Saudi-led Coalition is for performing the honest duty and accomplish the responsibility on our shoulders in building a new federal Yemen for all without exclusion or marginalization.

"You hold exceptional responsibility under these conditions our homeland is going through when those gangs rebelled against everything and played by state institutions including military and security institution. You well know their coup has been targeting what Yemen Yemeni people agreed upon in the National Dialogue Conference's outcomes which contain building a national and a professional army…… be owned by the people," he said.

He pointed out that honest people in the national army and the popular resistance, which has become a member of the national army, have the virtue of liberating Aden and other liberated cities with support from the coalition.

There are mistakes, he said, always accompany any work and formation of the national army included many mistakes must be addressed, corrected and not neglected.

Deputy Chief of Staff General Lieutenant Saleh al-Zandani and the Commander of the Forth Military Region General Lieutenant Fadhl Hassan provided a short review on the army accomplishments in operational, organizational and training fields.







---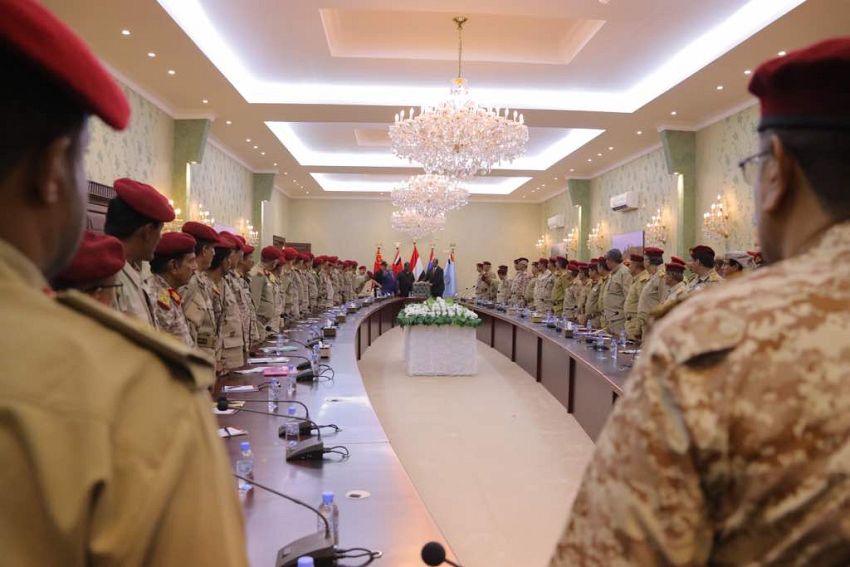 Leadership Council chair praises GCC for supporting Yemen and its just cause

President al-Alimi congratulates Turkish president on winning elections

President al-Alimi convenes high-profile meeting includes Speakers of Parliament, Shura Council

President al-Alimi praises UK's support for the Yemeni people

President al-Alimi receives Ambassador of the People's Republic of China

President al-Alimi discusses with UAE President latest developments in Yemen

President al-Alimi arrives in Abu Dhabi

Presidential Leadership Council holds session to discuss developments in the country

Chairman of Presidential Leadership Council receives Egyptian Ambassador

President Al-Alimi continues to receive more congratulation from world leaders on Yemen's national day May 22