[06/12/2017 10:16]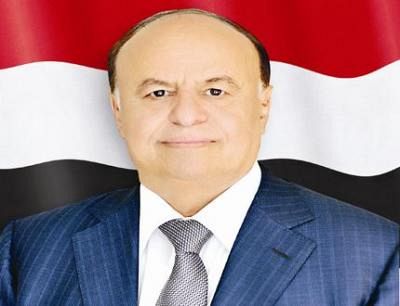 ADEN-SABA
President Abd-Rabbu Mansour Hadi has called on the UN Secretary General AntónioGuterresto implement the UN resolutions concerning Yemen under Chapter VII.

Hadi told Guterres in a sent cable on Wednesday that the Houthirebel militia'shave been committing brutal abuses against members of the GPC party, the last oppositionists remaining in Sana'a;killing,crackdowns, abductions, enforced disappearances, house arrests and myriad abuses.

"Stemming from this and from my national and moral responsibility toward my people, I appeal to you to let humanity and the UN's ideals win […] by implementing the UN resolutions concerning Yemen under Chapter VII."

Hadi said the Iran-aligned militia "went too far in their recklessness and disregard for the international community."

He said: "Iran's explicit interference and boasting interference in the Yemeni affairs is what make the rebel gangs' entrenched in their practices of devastating the country's infrastructure, detonating houses of civilians, torturing oppositionists with all techniques of pain infliction, using all kinds of weapons including tanks in street warfare against unsuspecting civilians and taking over the state by force."

Hadi said the militia's abuses got even worse after the people revoltedin Sana'a against their attempts to transform the Arab character of the capital toan Iranian one.Hadi cited the women protest of today (Wednesday)against the militias.

"In my capacity as the legitimate leader of Yemen and the GPC party, I affirm to you and the world that the GPC party in the Houthi-controlled territories mainly Sana'a has now been hijacked and all correspondence/letters it issuesdo not genuinely represent the party and are issuedunder intimidation and coercion."

Hadi called on the world body to should its responsibility in taking an honest stance toward the abusesthat the radical violent group commits against the Yemeni people of all political affiliations and walks of life.


---

President al-Alimi praises UK's support for the Yemeni people

President al-Alimi receives Ambassador of the People's Republic of China

President al-Alimi discusses with UAE President latest developments in Yemen

President al-Alimi arrives in Abu Dhabi

Presidential Leadership Council holds session to discuss developments in the country

Chairman of Presidential Leadership Council receives Egyptian Ambassador

President Al-Alimi continues to receive more congratulation from world leaders on Yemen's national day May 22

President al-Alimi in address to the nation: Restoring the State's institutions remains our inclusive goal

President al-Alimi receives American Ambassador

President Al-Alimi receives congratulation cables from world leaders on Yemen's national day May 22