[17/06/2017 12:47]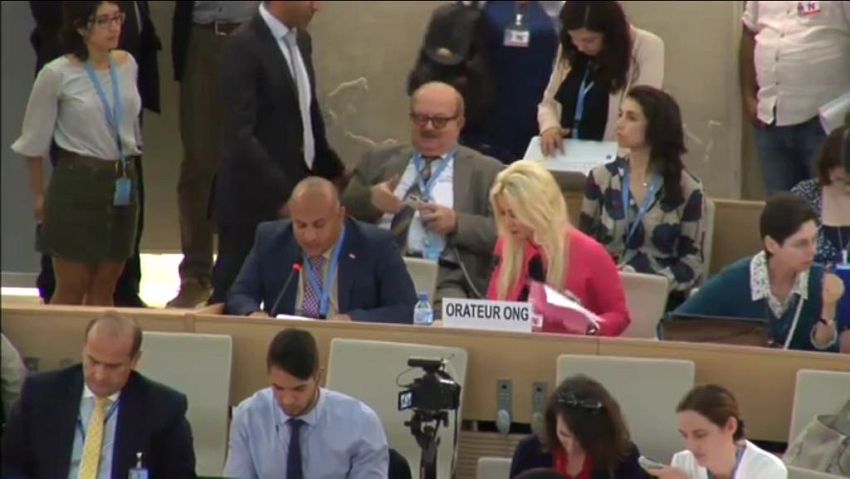 GENEVA-SABA

Yemen saw a real slay of journalism, the horrible memories of which will resonate for decades to come, said Nabil al-Oseidi a board member of Yemen's Journalists s Syndicate (YJS).

Reviewing the status of press in Yemen over the past two years, in a UN Human Rights Council seminar on expression freedom, al-Oseidai cited some example cases of Houthi savage cruelty against journalists.

He mentioned the militia's sentencing of a veteran reporter Yahya al-Jubeihi to execution in a 10-minute trial in a Sana'a court.

They murdered another journalist, Mohammed al-Absi by secret poisoning.

Al-Oseidi said opinion freedom saw a severe meltdown in the past couple of years in Yemen. "Information media and opinion leaders were an obvious target for the Saleh-Houthi militia since their takeover of power in September 2014."

Upon the takeover " newspapers, websites and offices of local and regional and international TV channels were immediately shut down," he said.

"Over the past two years 23 journalists were killed, 148 others were abducted and held in jails, 150 news websites blocked. Of the abducted journalists 19 remain in the custody of the Houthi milita, one remains in the custody of al-Qaeda."

The YJS recommended that the UN Human Rights Council assign their rapporteur on a mission to Yemen to see the magnitude of journalists' tragedy from close by.


---

President al-Alimi returns to Aden

Shujaadin seeks IAEA's collaboration with Yemen

Social Affairs Minister meets with his Emirati, Libyan counterparts

BinMubarak, German official explore peace prospects

Al-Erradah, Military advisor of UN's envoy discuss the Terrorist Houthi militias' escalation

Minister of Youth meets with senior advisor of Norwegian Foreign Ministry

Planning minister meets delegation of the Ministry of Foreign Affairs and Commonwealth Affairs

Camp to Haima displaced people to be established in Khokha

Al-Eradah confers with Turkish Ambassador over developments in Yemen

Yemen's Ancient Kingdom of Saba added to UNESCO's World Heritage List