[25/07/2022 03:11]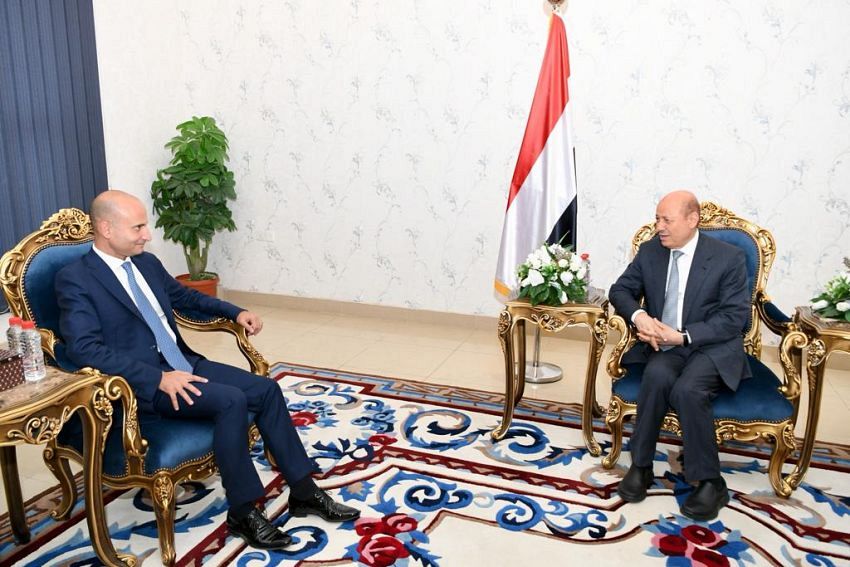 Riyadh – Saba
His Excellency President Dr. Rashad Muhammad Al-Alimi, Chairman of the Presidential Leadership Council, received today, Monday, at Maasheq Palace in the temporary capital Aden, the Ambassador of the friendly Republic of France, Jean-Marie Safa, to discuss the latest developments in the Yemeni situation and peace efforts in the country.

During the meeting, the President of the Presidential Leadership Council welcomed Ambassador Marie Safa, praising the firm French role alongside the Yemeni people, its political leadership and constitutional legitimacy within the European system and all international forums.

The President briefed the French ambassador on the situation in Yemen, and the efforts of economic and service reforms led by the Council in various sectors.

The Chairman of the Presidential Leadership Council indicated that there are signs of a breakthrough in the infrastructure and service level, with the start of implementing a package of vital projects during the next few days.

The Chairman of the Presidential Leadership Council affirmed the council's support for the efforts of the international community to bring peace and stability to Yemen, and its commitment to a comprehensive and sustainable solution in accordance with national and regional references, and relevant international resolutions, especially Resolution 2216.

The President stressed the importance of exerting international pressure on the Houthi militias backed by the Iranian regime, to fulfill their commitments before the international community.In turn, the French ambassador expressed his country's appreciation for the positive interaction of the Presidential Leadership Council and the government with all efforts and initiatives aimed at alleviating the suffering of the people and achieving their aspirations for peace, security and stability.


---

President al-Alimi receives presidency of reconciliation authority

Presidential Leadership Council Chairman Receives US Ambassador

President al-Alimi receives Emir Khaled bin Salman

President al-Alimi congratulates HRH Crown Prince Mohammed bin Salman for being appointed Prime Minister

President al-Alimi praises the Chinese support for Yemen

Presidential Leadership Council Chairman receives UN Special Envoy

President al-Alimi receives Chairman of European Commission

President of Leadership Council receives congratulations from Saudi leadership on revolution anniversary

Al-Alimi: 26 September revolution was not directed only against the backward regime, but was for the sake of life and dignity

President al-Alim leaves New York