[17/10/2019 07:32]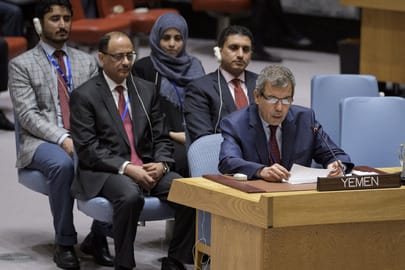 NEW YORK-SABA
The government has reconfirmed implementing Stockholm Agreement before transferring into any new political consultations on inclusive settlement to conflict and Security Council and international community must implement it as those who did not abide by former commitments will not abide by any agreement or political settlement.

In its speech delivered Thursday by Yemen's Permanent Representative to the United Nations Ambassador Abdullah al-Sa'adi before the Security Council, the government confirmed that it seeks different ways and means for implementing permanent peace and ending suffering of Yemeni people over unjust war triggered by Houthi militia.

The government showed maximum flexibility for the sake of implementing Stockholm Agreement and accepted all suggestions made by UN Envoy to Yemen Martin Griffiths for reaching to political solutions to conflict in Yemen on the bases of the three agreed upon references; the GCC Initiative, the Outcomes of the National Dialogue Conference and UN Resolution 2216.

The government pointed out that Houthi militia is making its livelihood by creating wars and chaos, implementing approach of Iran, which supports the militias and is the prime responsible on destabilizing Yemen and the whole region.

The speech said the government's team informed the Head of UN Mission for Supporting Hodeida Agreement its readiness to deploy monitors for fixing the ceasefire and banning any violations.

Monopolizing humanitarian suffering of Yemeni people for realizing political gains is totally rejected andHouthi militia continues rejection of president's initiative for opening Sana'a Airport for internal flights and facilitating travelling of people, who suffer long hours of traveling on the ground, the government confirmed.

The government renewed commitment to implementing agreement on exchanging prisoners, detainees, kidnapped people and forcibly disappeared people in Houthi militia's prisons in accordance with Stockholm Agreement as a very humanitarian issue and the government confirmed significance of lifting illegal siege by Houthi militia on Taiz city and ending suffering of its citizens.

The government confirmed successful measures it has taken for supporting local currency and economic stability through importing oil derivatives despite international community's concern over taking this decision.

"The resolution No. 49 aims at boosting state duties and responsibilities for improving its income and fulfilling its commitments towards citizens in all Yemeni provinces," said the government.

It expressed readiness to distribute fuel in all areas, including Houthi-held areas according to the need and in prices lower than those imposed by Houthi militia, conditioning that the UN should shoulder its responsibility on monitoring funds' influx from custom and tax revenues on these oil derivatives to commit merchants and owners of ships to depose these funds in the branch of the Central Bank of Yemen in Hodeida and should guarantee not to be withdrawn or used by Houthi militia.

Yemen's Permanent Representative to the UN Abdullah al-Sa'adi made it clear that since November 2018, the government has paid salaries of 63 percent of government's employees, 82% of them are in Houthi held-areas and paid pensions of more than 123000 beneficiaries in those areas.

The government denounced Houthi militia's hindrance of international organizations' activities and recently expelling the representative of UN High Commission of Human Rights from Sana' a and seizing his travel license.





---

FM discusses with Norwegian latest developments in Yemen

Up to 571 billion YR customs revenues in 2021

Al-Qusaibi: Houthis' skills as landmines-makers seriously developing

Eryani calls for real pressure on Houthi militia to release Intisar Al Hammadi

Killing, injuring four students by Houthi militia's drone western Taiz

KSrelief signs cooperation treaties with IOM support to displaced people

Houthis committed over 36,000 violations in Aljawf in 2021, says report

Cabinet discusses a number of internal and external developments

Yemeni-Jordanian relations discussed

Al-Hajraf calls on IC to press for halting Houthi terrorism