[22/07/2018 11:12]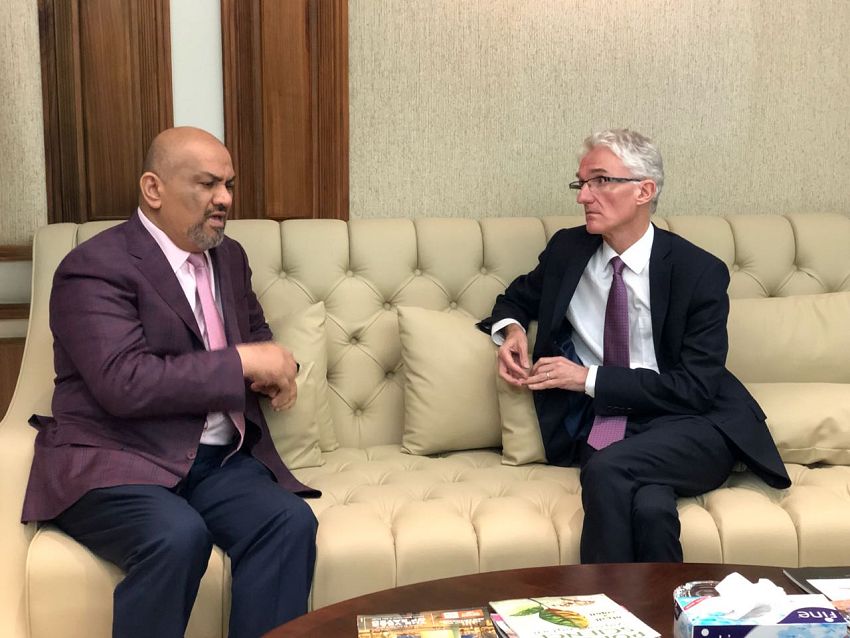 ABU DHABI-SABA
Foreign Minister Khaled Alyemany met Sunday on the sideline of his visit to the Emirati capital Abu Dhabi with the UN Undersecretary General for Humanitarian Affairs and Emergency Relief Coordinator Mark Lowcock.

Alyemany's conversations with Lowcock focused on the humanitarian situations in our country that have been seriously deteriorate due to Houthi putschist militia's coup, reckless practices, intransigence and refusal to come to peace under the three terms of references.

The Foreign Minister pointed out to the Government's and Arab Coalition's decision to deal constructively with the Initiative about Hodeidah province though more than one month and half passed while the militia has kept on its intransigence, refusing to withdrawal from west coast. He affirmed that the Yemeni Government has been open to the peace proposal suggested by the UN Special envoy to Yemen Martin Griffith with the purpose of reaching peaceful settlement to the crisis in Yemen.

Alyemany touched upon the west coast' battle, asserting that the Yemeni Government is very keen on keeping the Red Sea seaports in operation to receive relief and humanitarian assistance, ships will continue to be granted licenses to enter the seaport. He noted that combat operations in the west coast have been carefully running to save the city, population and institutions damages. Meanwhile Houthis have dug entrenches inside the city in preparation to engage in street to street fighting; quoting President as saying" the national military would not be drag to fight street's battles ".

For his part, Lowcock cited the UN's underway efforts to deliver humanitarian relief and assistance. He stated that relief operations have covered 7.4 million of the Yemeni people, while drinking water provided to 6.5 million of the population.



---

Planning Minister meets new Resident Representative of the UNDP in Yemen

Consultation and Reconciliation Commission stresses on adherence to declaration of power transfer

President al-Alimi returns to Aden

Shujaadin seeks IAEA's collaboration with Yemen

Social Affairs Minister meets with his Emirati, Libyan counterparts

BinMubarak, German official explore peace prospects

Al-Erradah, Military advisor of UN's envoy discuss the Terrorist Houthi militias' escalation

Minister of Youth meets with senior advisor of Norwegian Foreign Ministry

Planning minister meets delegation of the Ministry of Foreign Affairs and Commonwealth Affairs

Camp to Haima displaced people to be established in Khokha