[01/09/2017 01:40]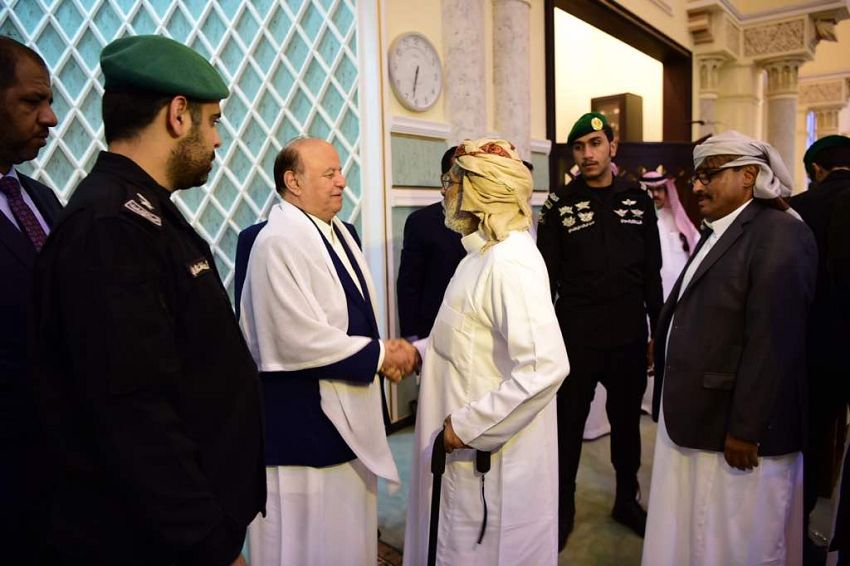 RIYADH-SABA
President Abdu Rabbu Mansour Hadi performed the Eid Al-Adhaha festivity prayers in his temporary residence in the Saudi capital Riyadh.

Upon the prayer end, Hadi received large numbers of good wishers, including MPs, military leaders, politicians, intellectuals, media bandits and civil society activists, who came to congratulate him on the major occasion.

Hadi exchanged congratulations with them. He affirmed the state's commitment to achieve advances and restore the country back from the Saleh-Houti coup militia and enforce peace and order in all parts of Yemen.

Had said the battle in which the government is engaged is not motivated by the interest of the President, but by the aim of defending the Republic, the federal state project, peace and security. "Persons are here today, tomorrow are gone. But the nation is everlasting," he told his guests.

"We are all partners in this country and defending it and preserving it. I don't believe the brave free Yemenis will accept a backward theologian authority to be imposed on them by the claimants of a divine right for power," he added.

"The advances that the army is achieving in all warfronts underscore that we are going the way of a new federal state that ends the era of marginalization and injustice; a country governed by the fair distribution of power and wealth and rests on the principles of good governance."

Meanwhile, Prime Minister Ahmed Obeid bin-Daghr performed the Eid prayer, along with senior state officials and the general public, in Huqqat Mosque in Crater town of the temporary capital city of Aden.

The preacher of the mosque called for unity of ranks, toleration, justice and commitment to the national constants to which all Yemenis agreed.

He emphasized the importance of unifying ranks to topple the coup d'état, which under the masquerade of the so-called Quranic march befell Yemen with disasters in all fields of life, political, economic and military.

The preacher warned that blood shedding and violence is always a grave sin and in these [Hijri calendar] days becomes a severer sin. He slammed the Houthi militias committing of the most heinous crimes of killing people and detonating mosques and usurping public and private properties.


---

President al-Alimi returns to Aden

President al-Alimi congratulates his Indian counterpart on the Republic Day of India

President al-Alimi congratulates Australian Governor on National Day

President al-Alimi congratulates Iraqi president on winning Gulf Cup

Leadership Council president stresses need to correct erroneous narratives regarding Yemeni issue

President al-Alimi receives governor of al-Mahrah

President al-Alimi receives al-Ahmar family

President al-Alimi appreciates UK's efforts to alleviate humanitarian suffering, push peace

Prime Minister details President al-Alimi on the government's efforts to manage challenges in different domains

President al-Alim receives UN's special envoy