[17/08/2017 01:28]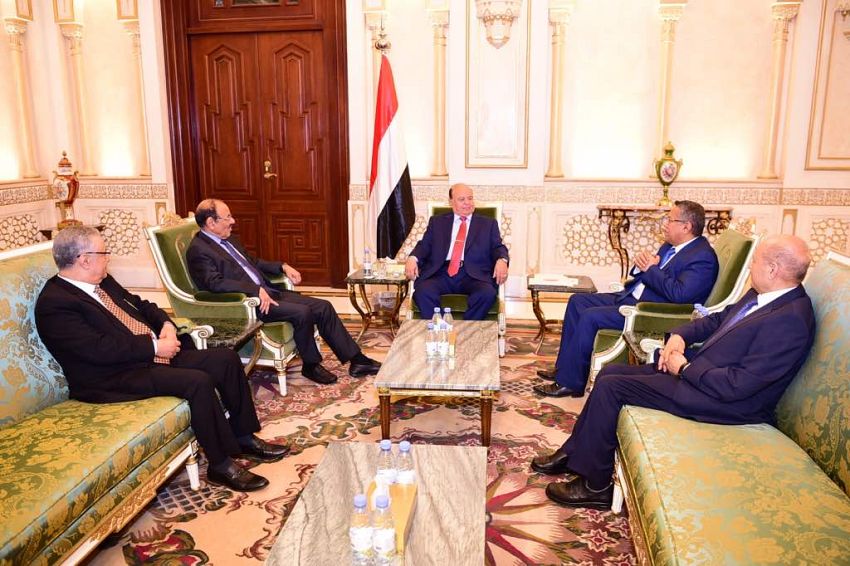 RIYADH-SABA
President Abdo Rabbu Mansour Hadi discussed on Thursday with Vice President Ali Mohsen Saleh, Prime Minster Ahmad Obeid bin-Daghr, President's Advisor Rashad al-Alimi and Governor of Aden Abdulaziz al-Muflihi latest political, military and security developments in the country.

President Hadi confirmed that the outcomes of the National Dialogue Conference and establishing the federation of Yemen is the choice of the Yemeni people based on partnership, justice and equality between all the people.

He also confirmed that assurances of victory against Houthi-Saleh's rebel militias are looming and the state will be restored after beating the militias and after failure of Iranian experiment.

"The rebel militias reject submission to Yemeni peace calls based on the three references; The GCC Initiative and its Executive Mechanism, the outcomes of the National Dialogue Conference and the UNSC's resolution led by Resolution 2216," said the president.

He praised sacrifices and struggles of the National Army's heroes, who are accomplishing excellent heroism in different battlefields. He valued huge Saudi support to Yemen.

The meeting dealt with situations in Aden and implementation of a number of service projects led by electricity, roads and water, reconstructions and normalizing conditions in the liberated governorates.

President Hadi was briefed by Governor al-Muflihi on plans of reactivating services and living conditions and reviving life in Aden.

President Hadi praised efforts of the government and Aden's leadership for normalizing conditions and providing services to the citizens. He directed the governor to exert more efforts serving the public interests of Adeni people.

"The interim capital of Aden is witnessing remarkable improvement in all fields; relief, reconstruction…. and rehabilitation of a number of health, service, educational and military facilities," he said.

For his part, Aden governor expressed thanks and appreciations to the president for following up activities of the local authority and his plans in Aden for bringing life into its order and improving services.

He confirmed that efforts of all institutions must be integrated for protecting security and stability in the governorate and for completing construction and reconstruction in different infrastructure destroyed by the war waged by Houthi-Saleh's militias on Aden and across Yemen.

President Hadi also hailed efforts of his Vice Ali Mohsen and of Prime Minister bin-Daghr and urged them to exert more efforts for the continuation of victories against rebels and for providing services to people in the interim capital and all liberated provinces.




---

Leadership Council chairman receives UN Special Envoy

resident al-Alimi congratulates Italian President on his country's National Day

President al-Alimi receives American Ambassador

Leadership Council chair praises GCC for supporting Yemen and its just cause

President al-Alimi congratulates Turkish president on winning elections

President al-Alimi convenes high-profile meeting includes Speakers of Parliament, Shura Council

President al-Alimi praises UK's support for the Yemeni people

President al-Alimi receives Ambassador of the People's Republic of China

President al-Alimi discusses with UAE President latest developments in Yemen

President al-Alimi arrives in Abu Dhabi