[28/03/2017 08:41]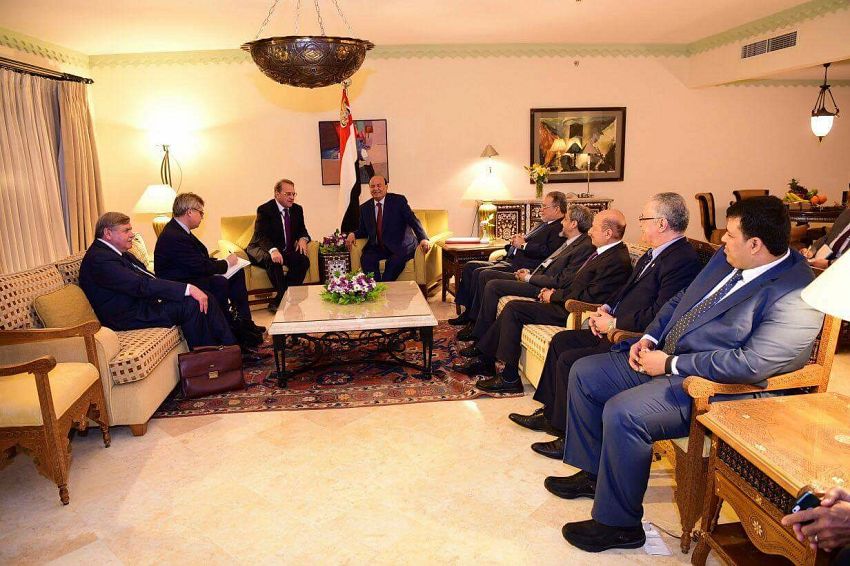 The Dead Sea (Saba)- President Hadi met Tuesday with Special Envoy of the Russian President for the Middle East and Deputy Foreign Minister Michael Bogdanov at his residence here.

The meeting, which is being held on the sideline of the President's participation in the 28th Arab Summit's activities, dealt with issues and topics of common concern and means of boosting them.

President Hadi welcomed the envoy, highlighting good relations between the two countries and the long history of coordination and cooperation.

He asked the Russian diplomat to carry his best wishes to his counterpart Fladmir Puttin.

Hadi praised Russian role for supporting Yemen in international forums and support to the UN Security Council's resolutions on Yemen. He highlighted stages of cooperation and Russia's supportive stance during the transitional in Yemen since 2011 starting with support to the GCC Initiative, the National Dialogue Conference's outcomes, UNSC's meeting in Sana'a until handing over the constitution draft overthrew by Houthi-Saleh's coalition with support from Iran.

"Despite catastrophes, destruction and siege created by rebels in our country and people, we are peace admirers and extend our hands to it in accordance with foundations and regulations, which regrettably ignored by rebels," said the president.

For his part, the Russian official expressed happiness for meeting with President Hadi, confirming his country's support to Yemen and its constitutional legitimacy. He hoped Yemen to overcome its ordeal and crisis and reaching to peace Yemeni people needs, as well as implementing the NDC's outcomes drafted by all people categories.

"In its keenness on peace and stability for the region and the world, Russia will support any effort in this framework," said Bogdanov.



---

President al-Alimi urges government to double down efforts to restore the state's institutions, eliminate Houthi militia's coup

President al-Alimi receives Chairman of Political, Military Team

President of the Presidential Leadership Council receives Libyan ambassador

President al-Alimi receives UNICEF's executive director

Head of Leadership Council returns to Aden after a successful regional tour

Chairman, members of Presidential Leadership Council visit Emirati Martyrs Oasis and Sheikh Zayed Grand Mosque

Leadership Council president discusses with Emirati President Yemen's latest developments

President of Leadership Council receives UN Special Envoy

President al-Alimi arrives in Abu Dhabi on a state visit to United Arab Emirates

President Al-Alimi and King Abdullah II discuss Yemen developments, bilateral relations