[26/03/2017 10:30]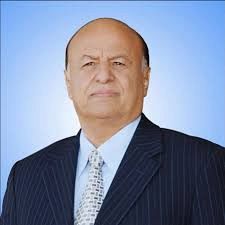 Riyadh (Saba) - President Abed Rabbu Mansour Hadi has confirmed the decision (Firmness Storm in Yemen) of the Custodian of the Two Holy Mosques King Salman Bin Abdul-Aziz Al Saud has been a brave and strategic.

The decision does not save only Yemen, but also the whole region from Persian expansion, said President Hadi, noting that the decision has speeded up the Persian plot, unearthed Iran's papers to the whole world and ended sectarian solution in Yemen.

"We have been, still and will always be peace advocates as adopters of people's concern and homeland's project," said the president in an interview with Saudi-based Al-Riyadh newspaper. He added that our national project is the federal Yemen in which all people live in peace, stability, justice and equality. This project has been the fruit of an inclusive National Dialogue Conference, which included all national issues and its outcomes were drafted by all participating people's categories and elites; political forces, woman, youth, civil society organizations, and even Houthis and Saleh.

He added, we have treated with all efforts and calls for peace responsibly and positively. "We have embarked on as responsible on all Yemeni people including those misled people among rebels' ranks and in response to peace references; Gulf Initiative and its Executive Mechanism, the outcome of the National Dialogue Conference and related UN resolutions, led by Resolution No.2216."

"For this, we went to Biel, Geneva and Kuwait and made concessions and dealt positively with the UN Document presented by the UN Secretary General Envoy in Kuwait and but was totally rejected by rebels," said the president.

He highlighted efforts exerted by Arab Coalition for supporting Yemen, expressing gratitude on behalf of Yemeni people to these efforts. He singled out King Salman's efforts as unparalleled and never compared with others provided by other international organizations or donors.

The interview touched upon important and new details made by the president on Yemen's crisis;

Obama's conversation with Hadi

He revealed a telephone conversation he made with US President Barak Obama after Saleh's incident when his face was burned. He said he informed Obama that everything was under control as the perpetrators wanted only the Capital Sana'a and conditions in the rest governorates were normal. Obama applauded the president saying the US was ready to help. But he wanted to send five planes for evacuation of staff of US mission from Yemen, a matter that angered the president and responded:" You want to leave Yemen? To whom you will hand it over? Iran would be the alternative and confirmed to him that this attitude is not strategic, explaining that Iran wants Yemen and Bab al-Mandab and when it controls Bab al-Mandab and Hormuz straits they will not need any more to be a nuclear state, he understood what I meant saying" Ok, I will call you three hours later."

He goes on, I called the late King Abdullah of Saudi Arabia then and asked for three jets to transform Prime Minister and his deputies, the Parliament Speaker and Chairman of Shoura Council for medication in Saudi Arabia. I did not mention Saleh and he thought he died and condoled me "Allah has mercy on him, a best successor to a best ancestor." I told him Ali Abdullah Saleh will remain in Yemen and asked for a physician specialized in burn injuries and another jet to Saleh. I asked also for three million barrel of fuel.

After three hours, Obama called again telling me;" congratulation, the scenario you made was better than of the White House and UNSC's five permanent members agreed to stay in Yemen."

Preparations for the NDC

The president summed up preparations for the National Dialogue Conference (NDC) and obstacles they faced. He said when the UN Secretary General Special Envoy to Yemen Jamal Benomer came to Yemen along with five experts from Security Council, they wanted to

change the GCC initiative but the president grasped it. When they asked for the mechanism of the initiative, which did not include Sa'ada and Southern issues, they agreed on adding them and categorized all Yemen's problems, setting up NDC's bylaw and commenced the dialogue. With 565 participants, the dialogue lasted for a year to come out with the NDC's document.

Saleh's plot with Iran to frustrate the NDC, seize Sana'a

President Hadi unearthed that while they were proceeding with the process of the NDC, Saleh sent 20 MPs representing his party to Iran asking Tehran to subject Houthis under his leadership and in return he will work on frustrating the initiative, Iran had already rejected. At that time, Iran was sending weapons to Yemen via sea. To avoid Iran's obstacles, the president return to the SC five states permanent members and European countries asking for help and demanded the five member states to be observers and guarantors. When the three axes of evil failed to thwart the dialogue and when announcing its success and the UNSC held a session in Sana'a supporting this success, they broke down and resorted to military operations in Sa'ada. When their military clashes reached Amran, the president made a call to Abdulmalik al-Houthi warning him that Iranian experiment will not work in Yemen, he refuted that they implement Twelfth Faith saying they are originally Zaidis.

He further revealed that Houthis sent 1600 young people to Iran to study the Twelfth Faith and for brainwashing before the dialogue. He said he ordered of bringing one of these students and asked him what they were studying in Iran and replied "in short, they taught us if Abdulmalik al-Houthi asked me to kill my mother, I should do."

Firmness Storm

President said Saleh has never expected the Firmness Storm and never expected US involvement in the side of the legitimacy. Saleh also did not expect a real interference from Gulf countries. If there were no military interference, Houthis would have controlled the whole Yemen. When three Iranian jets started to land in Sana'a International Airport, suddenly came the storm.

International agreement on the six regions

President Hadi said there is an international consensus on a federal of six regions to be implemented in Yemen, unearthing that only Zaidis in the north reject it. They want to subject the whole Yemen under their rule to control country's resources. He unearthed separating south from north is one of the solutions being addressed now. But he asserts on federation.

Pressure Strategy

On the delay of military storm to retake Sana'a, he said they do not want wars in cities and they do not want to harm 2.5 million people in Sana'a and the best choice here "is only putting pressure on them ( Houthi-Saleh) and isolating coasts." While, he said they can bombard Sana'a and hit the Republican Palace, he asserted that their strategy is based on pressure. But he affirmed that such strategy could take long time.



---

President al-Alimi: We're very keen to get all detainees released

President al-Alimi meets with presidency of consultation authority

Presidential Leadership Council holds session over military, economic developments

President al-Alimi receives French Ambassador

President of the Sudanese Sovereignty Council receives Yemen FM

Leadership Council chairman exchanges Ramadan good wishes with Arab and Muslim counterparts

President al-Alimi: Yemenis strongly united with International Community about the Yemeni cause more than ever

Leadership Council chairman receives China's acting ambassador

President al-Alimi receives Ambassadors of European Union, the Netherlands

President al-Alimi calls for general reconciliation in Aljawf governorate