[16/06/2023 07:56]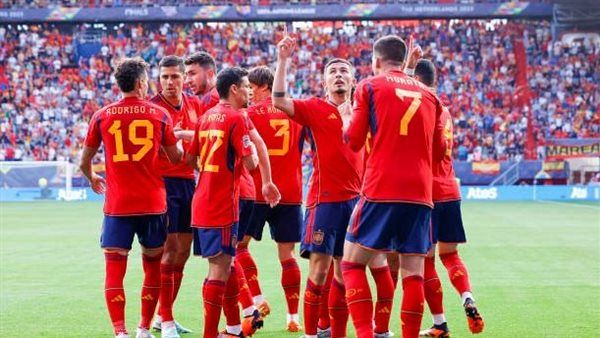 Amsterdam - Saba
The Spanish national team reached the final match of the European Nations League, after defeating Italy with two goals to one in the semi-finals of the tournament, to set a date in the final match with the Croatian national team, which succeeded in reaching the same role by defeating the Netherlands.

The Spanish national team opened the scoring in the third minute of the match through Jeremi Pino, and the Italian national team returned the score in the 11th minute from a penalty kick after defender Robin Le Norman touched the ball with his hand, so Ciro Immobile gave it a goal and translated it into a goal.

The Italians scored a second goal through David Frattisi in the 21st minute, but the referee canceled it due to the presence of offside, while Joselo managed to score the second scorer for Spain in the 88th minute.

The final match of the tournament will be held next Sunday, with the same day witnessing the third-place match between the Netherlands, hosting the final stage of the tournament, and Italy.


---

Spain reaches the final of the European Nations League and sets a date with Croatia

Barcelona crowned as Spanish League champion 4 rounds before conclusion of the "La Liga"

Real Madrid puts a step forward in the golden square of the UEFA Champions League

Chelsea sack coach Graham Potter

Argentina wins the 2022 World Cup after defeating France

Croatia finishes third after winning over Morocco

Morocco: First Arab-African football team reaches World Cup semi-final

Luis Enrique sacked as coach of Spain's national team

Yemen reaches 124th place in FIFA's monthly ranking

Medal victory for Yemen in Arab Judo Championship