[26/03/2023 06:28]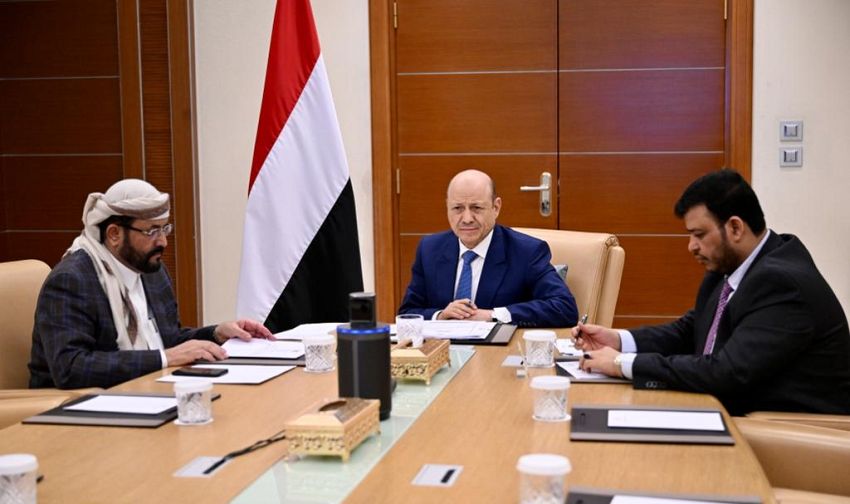 RIYADH - SABA
The Presidential Leadership Council (PLC) held a meeting today, Sunday, presided over by His Excellency President Dr. Rashad al-Alimi, Chairman of the Council with the presence of the Council's members Sultan al-Eradah and Dr. Abdullah al-Alimi. The members Aidarous al-Zubaidi, Tariq Saleh, Abdurhman al-Mahrami, Othman Mujalli and Faraj al-Bahssani contributed to the discussion via video conference.

The PLC expressed its best wishes for the Yemeni people on the Holy Month of Ramadan and glorified the 8th anniversary of launching the operation of "Decisiveness Storm" by the Arab Coalition in support of legitimacy in Yemen led by the Kingdom of Saudi Arabia and the United Arab Emirates.

The Council hailed the operation as a historical landmark in the history of Arab solidarity and a decisive response to the challenges facing Arab nation.

The session devoted to discuss the developments in the national arena and the military escalation by the Terrorist Houthi militias, particularly in the two districts of Harib and Markha in the two governorates of Marib and Shabaw, and the militias' systematic attacks on the civil facilities and public highways including the failed attack against the convey of the governor of Taiz governorate and several local authorities officials in the governorate.

The PLC discussed these military and security developments and the outcomes of the recent consultations about the file of the detainees, abductees and enforced disappeared, in addition to reports by the PLC's members Abdurhman al-Mahrami, Dr. Abdullah al-Alimi and Tariq Saleh.

The Prime Minister Dr. Ma'een Abdulmalik also briefed the PLC on the economic situation and the required interventions to maintain the financial, monetary stability and basic services and commodities supplies.

The PLC has confirmed that it will take necessary measures to protect the public interests and deter the terrorist organizations, go on the comprehensive reforms, back the legitimate of the fellows in the Iranian regime backed militias- controlled regions.

The PLC has called on the International Community to comprehend the danger of the terrorist escalation of the Houthi militias in view of the continuous smuggling of the Iranian weapons to the militias and the subsequent destructive consequences of that upon the international peace and security.

The PLC welcomed the outcomes of the recent discussions led by the UN and the International Committee of the Red Cross about the implementation of the prisoner exchange agreement.


---

President al-Alimi receives Norwegian foreign minister

Leadership Council chairman meets US Secretary of State

Leadership Council chairman receives UN Special Envoy

resident al-Alimi congratulates Italian President on his country's National Day

President al-Alimi receives American Ambassador

Leadership Council chair praises GCC for supporting Yemen and its just cause

President al-Alimi congratulates Turkish president on winning elections

President al-Alimi convenes high-profile meeting includes Speakers of Parliament, Shura Council

President al-Alimi praises UK's support for the Yemeni people

President al-Alimi receives Ambassador of the People's Republic of China