[18/02/2023 05:21]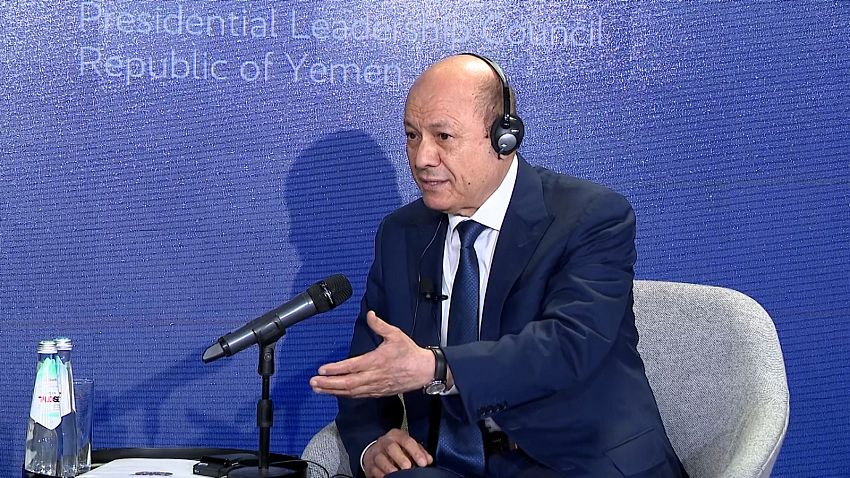 MUNICH - SABA
His Excellency President Dr. Rashad al-Alimi, Chiarman of the Presidential Leadership Council, said " Yemen is in need of a momentous push by international community to re-establish security, stability and bring the Terrorist Houthi militias to the peace negotiations".

He asserted that " the Yemeni peoples will never fed up of nor will give in struggling for overcoming the nightmare of" the Terrorist Houthi militias and their Iranian-sponsored spoiler scheme, all Yemenis will keep on struggling for achieving the comprehensive and fair peace, based on the agreed on terms of peace reference, specially the UNSCR 2216".

His Excellency voiced his statement as he was speaking today, Saturday, at deliberations session on the sideline of Munich 59th Security Conference.

The President has called on the international community to provide the Presidential Leadership Council and the government with more support including moving from humanitarian and relief interventions to the economic and sustainable developmental ones, funneling financial pledges of the relief organizations and UN's agencies through the Central Bank of Yemen.

The President restated that Houthi militias are not a proposal for peace in Yemen in view of several experiments since the militias carried out their Iranian Revolutionary Guard-backed coup against the national consensus in September 2014.

His Excellency cited the grave violations of the Houthi militias against civilians and human rights in the militia-controlled regions and the militias collaboration with the terrorist organizations. He noted that the Houthi militias released dozens of the prisoners who were convicted over terrorism charges including defendants were accused of bombing the American U.S.S Cole warship in October 2000, the attack resulted in killing 17 American marine soldiers.

The President added that if the International community wants a peaceful negotiated solution it should come through a comprehensive track includes handling all issues need to be addressed, including abandoning the ultra-conservative sectarian ideology of the terrorist group, first and foremost stop oppressing women and activists.

The Chairman of the Presidential Leadership Council concluded saying " We have got peoples' cause, we will never fed up or get tired until we get rid of the nightmare that our people have been struggling with.


---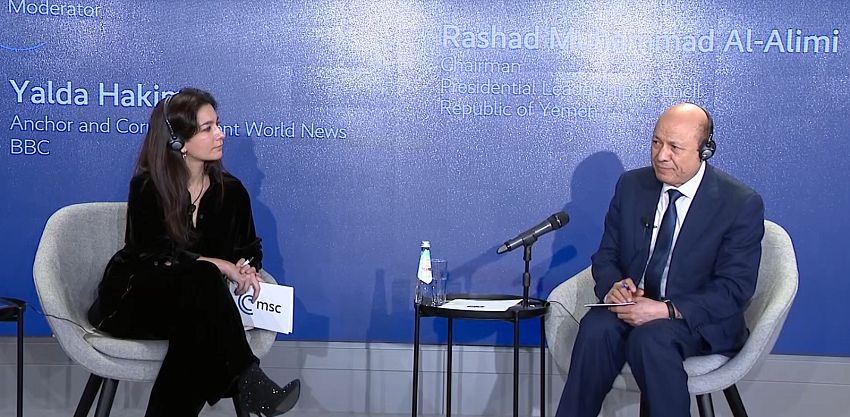 Leadership Council chair praises GCC for supporting Yemen and its just cause

President al-Alimi congratulates Turkish president on winning elections

President al-Alimi convenes high-profile meeting includes Speakers of Parliament, Shura Council

President al-Alimi praises UK's support for the Yemeni people

President al-Alimi receives Ambassador of the People's Republic of China

President al-Alimi discusses with UAE President latest developments in Yemen

President al-Alimi arrives in Abu Dhabi

Presidential Leadership Council holds session to discuss developments in the country

Chairman of Presidential Leadership Council receives Egyptian Ambassador

President Al-Alimi continues to receive more congratulation from world leaders on Yemen's national day May 22