[07/12/2022 01:39]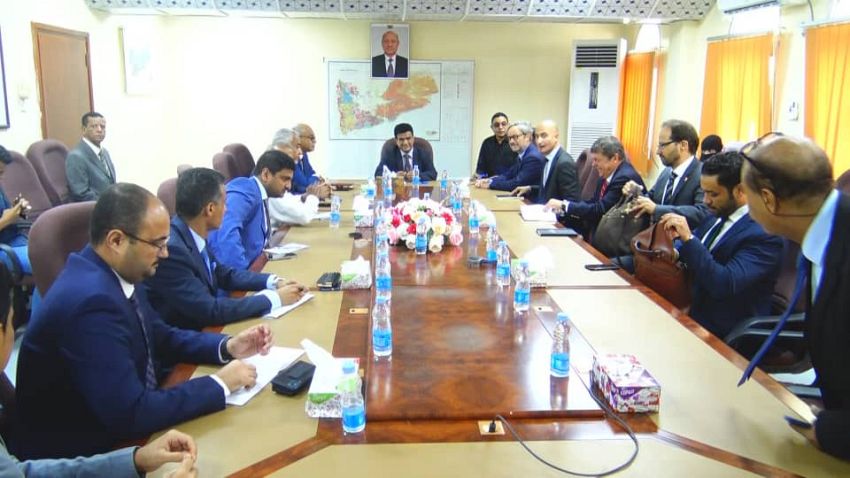 Aden - Saba
The Minister of Oil and Minerals, Dr. Saeed Al-Shammasi, discussed today in the interim capital, Aden, with the European Union Ambassador and the ambassadors of France, Germany and Switzerland the dimensions of the humanitarian aspects as a result of the Houthi attacks on oil installations and their impact on the efforts of the peace process in the country.

The meeting reviewed the developments in the economic conditions resulting from the cessation of the export of crude oil due to the targeting of the Houthi coup militias, and the dire consequences of doubling the suffering of citizens in various fields.

The minister explained that the revenues from oil resources constitute 75 percent of the state's general budget, from which salaries are paid to employees, as well as the payment of appropriations for imports of food commodities and operating expenses to facilitate the work of local authorities in the liberated governorates.

He drew attention to the behavior of the coup militias and their evasion of non-compliance with the armistice and agreements, and the evidence for this is the refusal to pay the salaries of employees in their areas of control after the entry of oil derivative ships to the port of Hodeidah, in which sales revenues were estimated until mid-November at more than 300 billion Yemeni riyals and work to fabricate crises and monopolizing the sale of derivatives on the black market to reap profits and gain for the benefit of its militia leaders.. explaining that the situation has now become complex and requires taking deterrent measures as a result of terrorist acts and studying this from all sides to curb the persistence of this group that does not recognize humanitarian law and international covenants and treaties and bears the dire consequences of this aggressive approach on People's property.


---

Major General Al-Zubaidi discusses with US envoy the dangers of the Houthi escalation in the Red Sea and Bab al-Mandab

Al-Hikma Al-Yamaniya and NB sign cooperation agreement to tackle malnutrition in Aden

Al-Sharjabi opens workshop on relationship between climate change, vulnerabilities & human mobility

Yemen and China sign economic and technical cooperation agreement with a grant worth 100 million yuan

Chief of Staff discusses military cooperation with Egyptian naval, air-forces commanders

Yemen joins Sessions of International Development Association

Al-Sharjabi: War affected Yemen's steps to manage the water and environment issue

Leadership Council Chairman receives UN Special Envoy

Chief of Staff discusses military cooperation with Egyptian naval, air-forces commanders

Brig. Gen. Tariq Saleh inaugurates construction of Al Khowkha Central Hospital, announces a solar energy station project