[23/10/2022 04:55]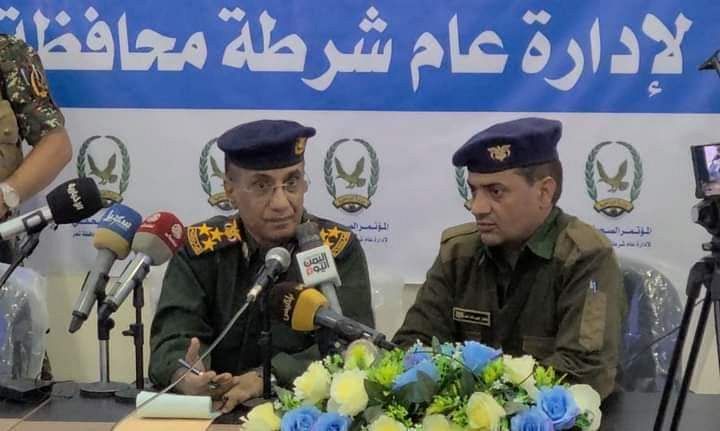 TAIZ-SABA
Yemeni police on Sunday arrested two cells linked to the terrorist Houti militia and responsible for conducting heinous car bombings in the central city of Taiz, police sources say.

The Director of Taiz Police Brig. Mansour Al-Akehali said in a press conference, "The security authorities nabbed two cells composed of six members involved in the crimes of planting improvised explosive devices [on cars] and detonating them in the city center."

He said the cells are "directly responsible" for bombing a police patrol car that wounded three civilians, and more recently ( a couple of days ago) another car bombing that killed a judge, two ordinary civilians and female child in the main Jamal Street.

He said the perpetrators "have been arrested after a precise surveillance in coordination with the terror combat authorities and the Criminal Investigation Department. The terrorists are in detention in preparation for their prosecution.


---

Al-Sharjabi opens workshop on relationship between climate change, vulnerabilities & human mobility

Yemen and China sign economic and technical cooperation agreement with a grant worth 100 million yuan

Chief of Staff discusses military cooperation with Egyptian naval, air-forces commanders

Yemen joins Sessions of International Development Association

Al-Sharjabi: War affected Yemen's steps to manage the water and environment issue

Leadership Council Chairman receives UN Special Envoy

Chief of Staff discusses military cooperation with Egyptian naval, air-forces commanders

Brig. Gen. Tariq Saleh inaugurates construction of Al Khowkha Central Hospital, announces a solar energy station project

Saudi Arabia, Qatar confirm full support to solving Yemen's crisis

Al-Sharjabi discusses with German official support to Yemen institutions