[07/09/2022 03:04]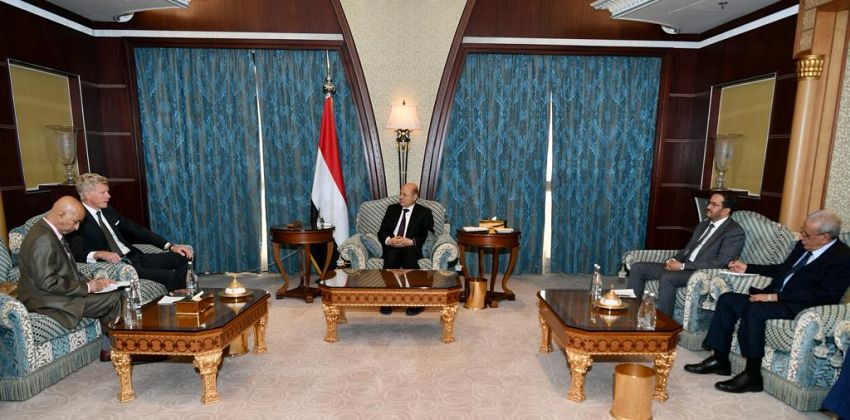 Riyadh – Saba
His Excellency President Dr. Rashad Muhammad Al-Alimi, Chairman of the Presidential Leadership Council, and member of the Council, Othman Megally, received today, Wednesday, United Nations Special Envoy Hans Grundberg, to discuss the latest developments in peace efforts, and to alleviate the human suffering caused by the Houthi militias in the country.

In the meeting, the President of the Presidential Leadership Council affirmed the commitment of the Council and the government to the option of a just and comprehensive peace in accordance with the three references agreed upon nationally, regionally and internationally, especially Resolution 2216.

The Chairman of the Presidential Leadership Council praised the unified international position on the side of the Yemeni people, and their aspirations to achieve peace and stability, restore state institutions, and decent livelihoods.

The Chairman of the Presidential Leadership Council recalled the continuous initiatives provided by the Council, the government, the Arab Coalition, led by the Kingdom of Saudi Arabia, and the United Arab Emirates in order to alleviate the humanitarian suffer of the Yemeni people, despite the intransigence of the Houthi militia towards these initiatives over the past eight years.

His Excellency the President referred to the Houthi militia's violations of the ongoing truce, and its persistence in fabricating pretexts, the latest of which was preventing fuel ships from reaching the ports of Hodeidah, and reviving the black market, without paying attention to the suffering of citizens.

In this context, he stressed the absence of any measures on the part of the government, to prevent the arrival of these ships and commercial shipments to their specified destination under the truce agreement, and its keenness to deny the militias any opportunity to blackmail the international community.

The President expressed his hope for the international community to exert more pressure to push the militias towards dealing seriously with peace efforts and to give priority to the interests of the Yemeni people over Iran's expansionist interests.


---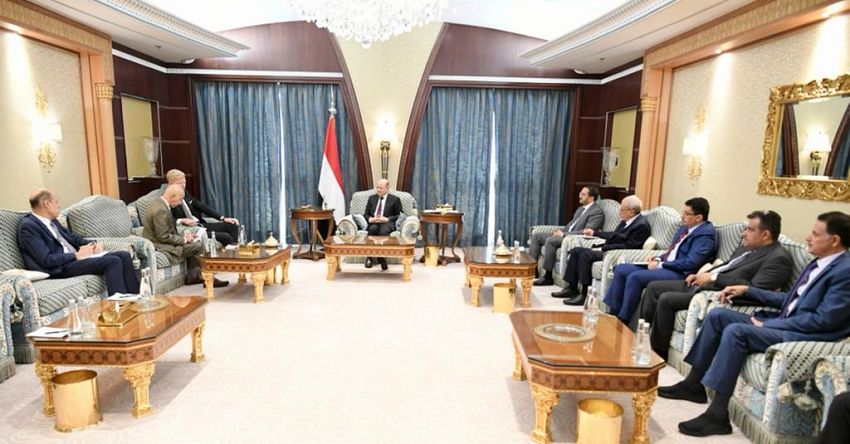 Leadership Council chair praises GCC for supporting Yemen and its just cause

President al-Alimi congratulates Turkish president on winning elections

President al-Alimi convenes high-profile meeting includes Speakers of Parliament, Shura Council

President al-Alimi praises UK's support for the Yemeni people

President al-Alimi receives Ambassador of the People's Republic of China

President al-Alimi discusses with UAE President latest developments in Yemen

President al-Alimi arrives in Abu Dhabi

Presidential Leadership Council holds session to discuss developments in the country

Chairman of Presidential Leadership Council receives Egyptian Ambassador

President Al-Alimi continues to receive more congratulation from world leaders on Yemen's national day May 22