[29/08/2022 07:10]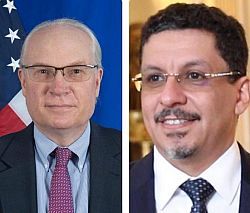 RIYADH - SABA
Minister of Foreign and Expatriate Affairs Ahmad Awadh BinMubarak discussed Monday via telephone call with US Envoy for Yemen Tim Lenderking continuous Houthi militia's breaches and violations to UN Truce and Monday attack on Taiz city's main road in Dhabab area.

While people in Taiz, in particular and in Yemen in general, are waiting for Houthi militia to lift its siege on Taiz, in contrary and in stark challenge to international community and in negligence to all international efforts, Houthi militia launched Monday morning violent attack on Dhabab area, Taiz to control the area to cut the sole road linking Taiz City with Aden, said BinMubrak.

He warned that this aggression does not only represent stark challenge to initiatives and efforts aiming at ending the war and realize peace but also threatens continuity of the truce and hinder efforts for extending it.

BinMubrak demanded the US envoy to denounce all Houthi militia's crimes and to work with the international community to put utmost pressure on Houthi militia to stop its continuous violations to the UN Truce.

For his part, the US envoy confirmed condemnation to these criminal acts and to any military escalation contradicting the truce.

He also expressed his country's confirmation on self-control and commitment to the truce by all and to avoid any violation will only harm all citizens in Yemen.


---

Chief of Staff participates in Egyptian Defense Expo (EDEX)

Masam removes 758 landmines from different areas last week

Brig. Tariq inspects final arrangements to operate al-Mock airport

Leadership Council chairman concludes visit to the United Arab Emirates

Health Minister reviews effects of climate on health in Yemen

Yemen participates in 39th Ministerial Session of COMCEC

PM: Water problem in Yemen is major issue that must be dealt with

Akbari participates in coordination meeting of the Arab-Russian Cooperation Forum

Chief of General Staff begins an official visit to Cairo

Seminar about Humanitarian International Law in Aden