[10/05/2022 06:53]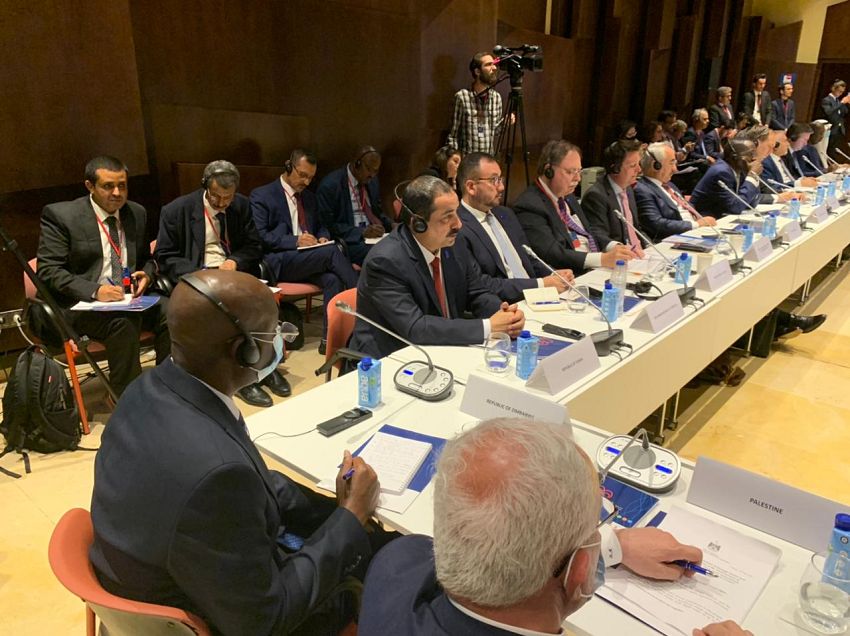 MALKA - SABA
Minister of Interior General Lieutenant Ibrahim Haidan has said:" Iran and its military hands in our Arab region, including Houthis and Hezbollah pose dangerous threat to our national security."

Iran is evil state does not respect international law and does not abide by its commitments as member in the United Nations, said Minister Haidan in a speech he delivered in the High-Level International Conference for Fighting Terrorism and Boosting Human Rights organized by Spanish Foreign Affairs Ministry and UN Anti-Terrorism Office on May, 10-11 here.

A number of Ministers of Foreign Affairs, Interior, Justice and Human Rights from different countries are participating in the conference.

" Yemen is witnessing political changes could result in a period of peace and stopping the war if Houthis submiss to it and abandon stubbornness and receiving directives from countries do not want good things to Yemen," he said.

He expressed Yemen's appreciation to brotherly and friendly countries which have stood by Yemen in its ordeal and contributed in alleviating suffering of Yemeni people over Houthi militia's coup against the state.

He reviewed Houthi militia's crimes since its coup in 2014 until moment, which included breaching international accords, killing and displacing people, bombing houses and worship places and threatening international security and peace through targeting international maritime navigation by attacking ships and laying mines in the Red Sea.

He touched upon Houthi militia's shelling of oil establishments in Saudi Arabia by ballistic rockets and drones, coalition with al-Qaeda elements and releasing them from prisons and recruiting children as soldiers and sending them to die in warfronts.


---

Planning Minister meets new Resident Representative of the UNDP in Yemen

Minister of Industry confirms the strategic stock of basic commodities is assuring

Consultation and Reconciliation Commission stresses on adherence to declaration of power transfer

President al-Alimi returns to Aden

Rights group documents Houthi crimes against Hajjah people

FM meets US Ambassador

Ksrelief organizes bazaar for beneficiaries of Youth Empowerment Support in Mahra

Shujaadin seeks IAEA's collaboration with Yemen

President al-Alimi congratulates his Indian counterpart on the Republic Day of India

Social Affairs Minister meets with his Emirati, Libyan counterparts