[23/03/2022 12:08]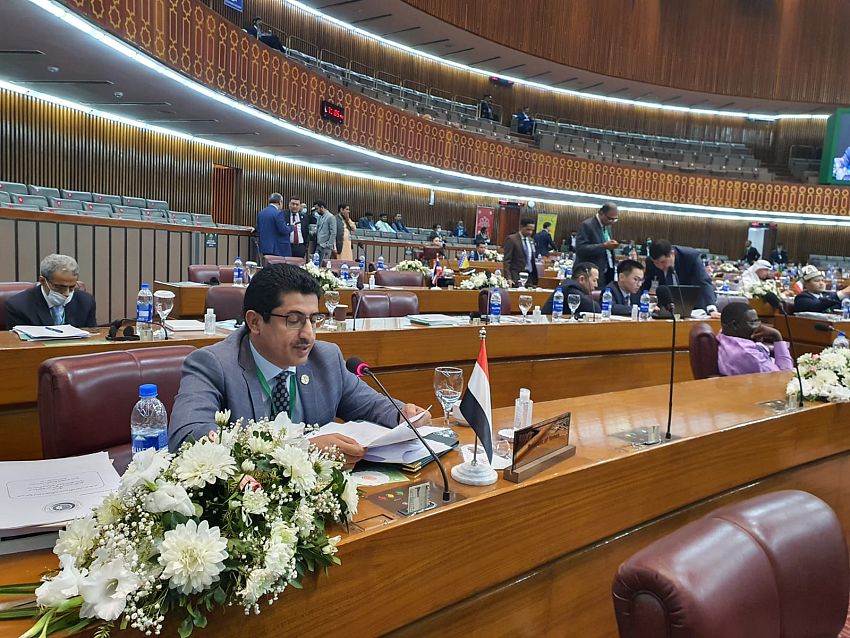 ISLAMABAD-SABA
Under-Secretary of the Ministry of Foreign Affairs and Expatriates Dr. Mansour Baggash said that peace in Yemen has continued to be unattainable due to Houthi militia's rejection of all peace calls and proposals, blocking international and regional efforts aimed to bring it, continuing its aggression on Marib, besieging the city of Taiz and going on different violations against the Yemeni people.

Speaking at the 48th Session of the Council of Foreign Ministers of the Organization of Islamic Cooperation (OIC) convened in the Pakistani capital Islamabad, he went on saying" Houthi militias' escalatory actions are not confined to the Yemeni mainland but went far to target civil and economic facilities in the Kingdom of Saudi Arabia, United Arab Emirates and commercial ships in the Red Sea".

He praised the OIC's statement dated March 1, 2022 which welcomed the International Security Council's resolution 2624 issued last February about designating the Houthi militia as a terrorist group, blacklisting in Yemen sanctions regime about weapons embargo.

Baggash stated that the Yemeni government welcomed the resolution as a significant move to help curbing the Iranian military support for the Houthis that has proved key factor for prolonging the war, undermining peace efforts, worsening the Yemeni peoples' suffering.


---

Al-Mass inspects works of rehabilitating Lahj- Makha coastal highway

Speaker of Shura Council praises China's support for Yemen

WFP's interventions in Hadhramout discussed

Education Minister discusses with ALECSO's director enhancing cooperation

Water Minister, FAO discuss aspects of coordination

Head of Central Agency for Statistics meets EU mission delegation

Al-Sharjabi discusses with UNICEF rep. implementation of the organization's interventions

Dr. Abdullah al-Alimi confers with Swedish Envoy over developments in Yemen

Yemeni Network for Rights condemns Houthi abduction of Baha'is

Bin Mubarak discusses with Swedish envoy developments in Yemen