[19/01/2022 04:41]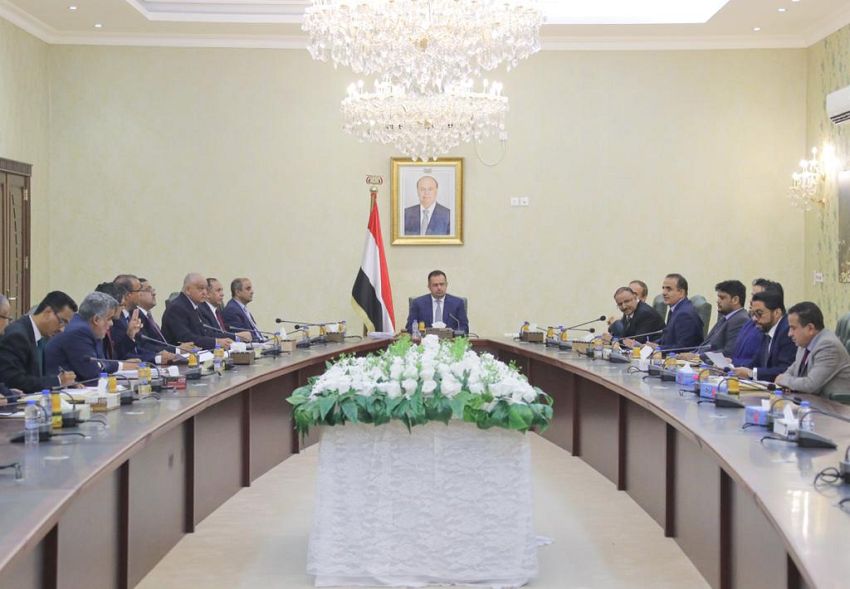 Aden - Saba
The Council of Ministers, in its meeting today, Wednesday, in the temporary capital, Aden, headed by premier Dr. Maeen Abdulmalik addressed a number of developments at the internal and external levels, especially with the dangerous escalation by Iran's proxies and terrorist attacks that targeted vital interests in the United Arab Emirates and Saudi Arabia, and the threat to international navigation, the hijacking of the Rawabi ship, and other acts that threaten the security and stability of the region and the world.

The Council discussed in detail these terrorist acts, and the existing coordination with the coalition to support legitimacy led by the sisterly Kingdom of Saudi Arabia, as well as the international community to deal with them, put an end to them and deter their perpetrators, by working to complete the restoration of the state and end the Houthi coup and Iran's bloody project in Yemen... stressing that these attacks against civilian objects and civilians in the UAE and Saudi Arabia indicates the growing danger that Iran's arm in Yemen poses to the security and stability of neighboring countries, the region and the world, and to the safety of international navigation in the Red Sea.

The Council of Ministers stressed that this persistence and dangerous escalation by the terrorist Houthi militia proves once again its continuous endeavor, at the behest of Iran, to spread terrorism and chaos in the region, in blatant defiance of all binding international resolutions, including Tehran's continued violation of resolutions banning the arming of the Houthis and providing them with smuglled drones, missiles and other weapons, noting the declared and clear international positions in their firm stance towards the Iranian-backed Houthi escalation to maintain security and stability in the region, and the consequent responsibility of supporting the Yemeni people and the coalition to support the legitimte government and complete the restoration of the state and implement binding international resolutions against the Houthi coup.

The Prime Minister briefed the members of the Council on the results of his recent successful and fruitful visit as a head of a high-level government delegation to the sisterly United Arab Emirates, the meetings he held with Emirati leaders and officials, and the understandings that prevailed on several issues, and the joint technical committees starting their work to coordinate aspects of support required within the framework of the UAE's firm position in supporting Yemen and its people to overcome the current challenges, foremost of which is restoring the state, ending the coup and achieving economic stability.


---

First national meeting on nutrition in Yemen held

Annual meetings between government and IMF held in Amman

FM discusses with UN Envoy peace process

Houthi militia destroys house of deputy interior minister in Sana'a

resident al-Alimi congratulates Italian President on his country's National Day

Health Minister, WHO's Director discuss challenges facing health sector in Yemen

Al-Awadhi discusses with Kenyan official bilateral relations

Prime Minister praises British support for government's efforts to manage the economic hardships

Yemen calls on international community to help it managing natural disasters' risks

Parliament presidency holds meeting with PM to find out about current developments