[11/04/2021 01:33]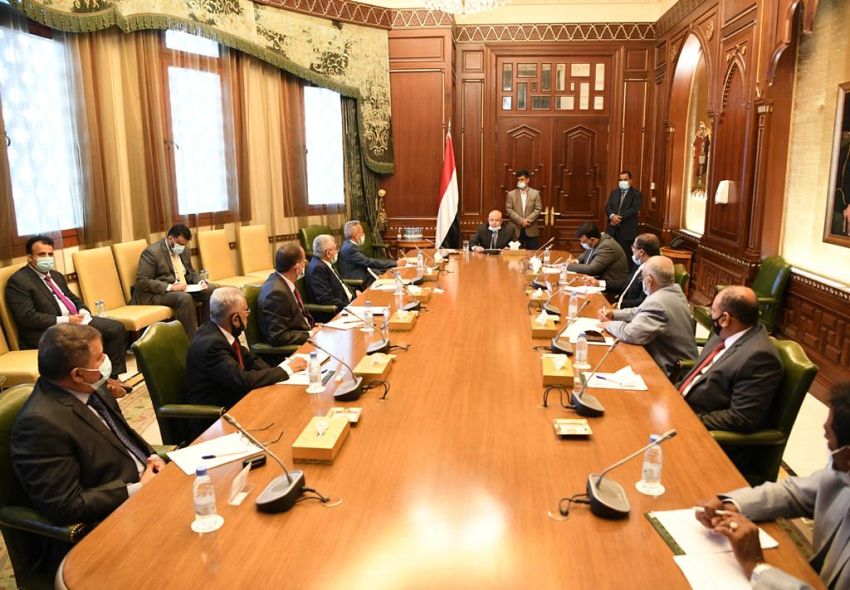 RIYADH-SABA
President Abd-Rabbu Mansour Hadi presided over on Sunday an exceptional meeting to the Supreme Judiciary Council (SJC,) included Head of the SJC Ali Nasser Salim, the Head of the Supreme Court Judge Hamoud al-Hitar, Minister of Justice Judge Badr al-Aredha and other judiciary leaders.

In the meeting, President Hadi talked about the complicated situation in the country and suffering of all Yemeni people over Iran- backed Houthi militia's triggered war on Yemeni people, pointing out to big sacrifices for avoiding transporting Iranian experience to Yemen.

He also pointed out to significance of unifying fronts in the judiciary authority for serving people's interests as one of the three key authorities getting their legitimacy from the constitution and authorities of the president of the republic.

He confirmed the significant role of the judiciary authority as key foundation of the state, stressing importance of protecting independence and impartiality of the judiciary away of political plots and activating the judiciary role and its institutions.

He urged stopping all practices aiming at hindering activities of the courts and prosecutions, providing judiciary services to the society for normalizing order and committing to administrative and financial transparency like other institutions under control and audit.

Meanwhile, the head of the SJC and members of the council confirmed their understanding to challenges facing by Yemen and big responsibilities the president shoulders under status quo.

They also confirmed working in a teamwork for boosting the position of the judiciary and unifying its components.

The Judiciary Council approved president's decrees regarding appointments in judiciary council led by the decree of appointing a General Prosecutor to the Republic of Yemen.


---

Leadership Council chairman receives UN Special Envoy

resident al-Alimi congratulates Italian President on his country's National Day

President al-Alimi receives American Ambassador

Leadership Council chair praises GCC for supporting Yemen and its just cause

President al-Alimi congratulates Turkish president on winning elections

President al-Alimi convenes high-profile meeting includes Speakers of Parliament, Shura Council

President al-Alimi praises UK's support for the Yemeni people

President al-Alimi receives Ambassador of the People's Republic of China

President al-Alimi discusses with UAE President latest developments in Yemen

President al-Alimi arrives in Abu Dhabi