[10/03/2021 06:15]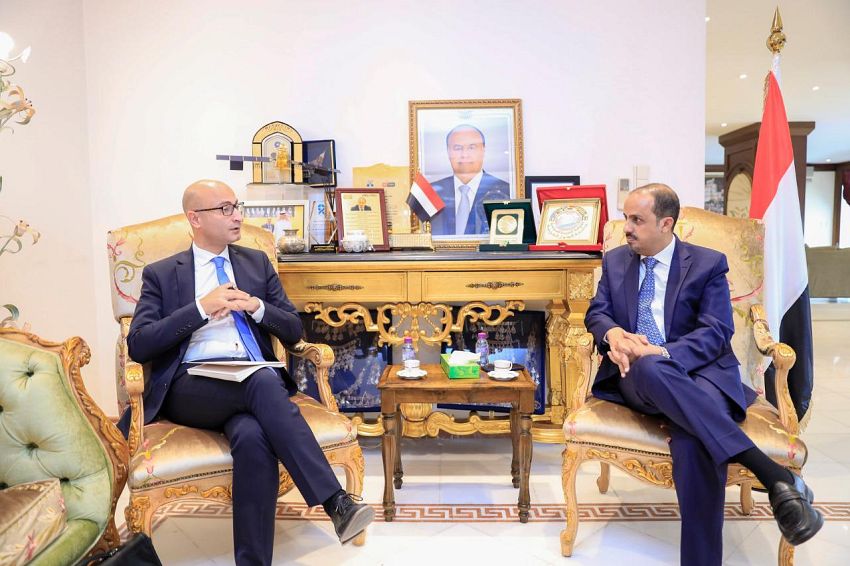 ADEN - SABA
Yemen's Information Minister Muammar al-Eryani has expressed the international community's silence for Houthi atrocities including the burning of hundreds of African migrants in a Sana'a detention facility a couple of days ago.

In a meeting with the French ambassador to Yemen today, al-Eryani cited the Houthi atrocities the international community keeps overlooking the militia's too many atrocities including the imposition of religious tax, physical elimination of opponents and former allies, child soldier recruitments, abuse of civilians, torture of journalists, stealing of aid and starvation of Yemenis, and most recently, the migrant immolation crime in Sana'a.

Eryani said the ideology of Houthis "is no different from Al-Qaeda's and ISIS's. It is based on violence, bloodshed, claiming divine right to rule and opposing peace."

He said that there is "a collusion between Houthis and other terrorist groups in that they play various roles within the [overall] scheme of overthrowing the state and in exploiting the security vacuum."

He said that the Yemeni people have begun to lose their confidence in the international community as they watch a clear bias in favour of the militia, and "this will have big consequences in the future.

He called on the international community to support the legitimate government of President Abd-Rabbu Mansour Hadi in the battle to restore the Yemeni state and topple the Houthi coup. He called on the international community to shoulder their responsibility toward the Houthi crimes.


---

ICRC mission reviews conditions of the displaced in Hodeidah

Minister of Water launches workshop on effect of climate change on food and water security

Chief of Staff participates in Egyptian Defense Expo (EDEX)

Masam removes 758 landmines from different areas last week

Brig. Tariq inspects final arrangements to operate al-Mock airport

Leadership Council chairman concludes visit to the United Arab Emirates

Health Minister reviews effects of climate on health in Yemen

Yemen participates in 39th Ministerial Session of COMCEC

PM: Water problem in Yemen is major issue that must be dealt with

Akbari participates in coordination meeting of the Arab-Russian Cooperation Forum