[12/08/2020 03:24]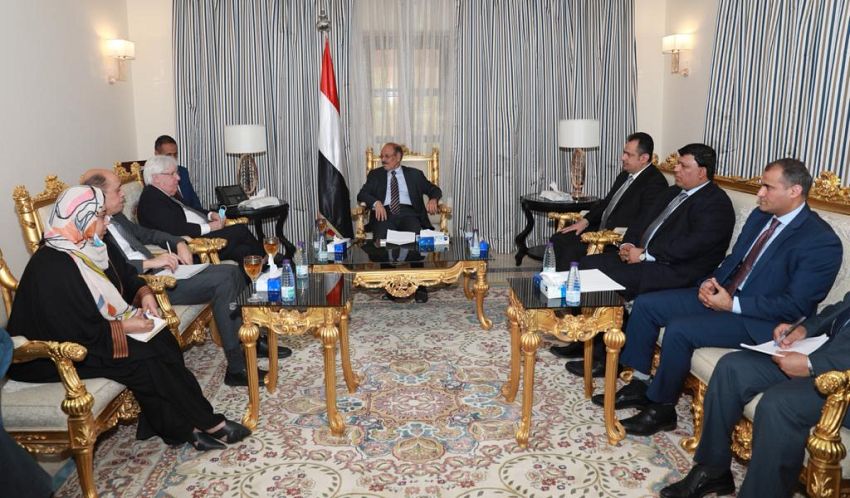 RIYADH - SABA
Vice President Lt. Gen. Ali Mohsen Saleh told the UN special envoy to Yemen Martin Griffiths the Houthi militia met the truce declared by the armed forces and its Arab backers last April with more mobilizations for war.

In a meeting with Griffiths here today, the Vice President said the legitimate government has always responded positively to the peace mediators' invitations for de-escalation in favour of pursuing a peace process including the envoy's call on both warring parties to cease hostilities and focus efforts on fighting coronavirus across the battle lines. "But the Houthi putschists met the [Arab Coalition and Yemeni army's] declaration of ceasefire with more stubbornness, mobilization for war, firing of ballistic missiles, and launching of armed drones" against Yemeni and Saudi civilian areas.

The Vice President said the people in the areas of Houthi control are subject to pandemics, hard living conditions, and the impacts of floods, "while the militiamen continue to ignore their suffering, loot resources, suppress freedoms and extort the masses to finance their pointless war and sectarian festivities."

He said the militia are pressing ahead in their endless wars in several areas in the country, without any condemnation from the international community.

He said the militia are also procrastinating and using all tricks to avoid allowing experts to carry out maintenance for the dangerously decaying oil tanker in the Red Sea, threatening a huge oil spill that will amount to an epic catastrophe for Yemen and will affect the whole region.

The Vice President praised the Riyadh Agreement brokered by Saudi Arabia which will alleviate the suffering of the Yemeni people, renormalize the situation and unify the ranks of the government and the Southern Transitional Council toward restoring the Yemeni state and achieving comprehensive peace.

Prime Minister Maeen Abdulmalik who was attended the meeting briefed the envoy on the Houthi looting of public revenues and obstructing the delivery of oil products to the people. He said the militia are not depositing the revenues of the seaports under their control to the central bank so that the funds are used to pay public employees as agreed.

The Director of the Presidential Office and the Foreign Minister, also attending the meeting, provided the government's feedback on the envoy's latest peace draft pointing out that the Houthis have sidestepped Stockholm Agreement and gunned down a governmental ceasefire monitor deployed as per the agreement in Hodeidah but the international community stayed tightlipped towards the Houthi violations.

The Yemeni officials hailed the efforts of the UN peace mediator and renewed the government's commitment to peace based on the three relevant terms of reference for peace.

The UN envoy renewed his commitment to find a comprehensive political settlement as per the terms of reference in order to bring the suffering of the Yemeni people to an end.


---

President of Leadership Council, Chinese President discuss latest Yemen developments

Chinese-Gulf Summit affirms support for Leadership Council in reaching solution

Supreme Council of Gulf States affirms support for Presidential Council

Saudi Arabia Crown Prince affirms support for efforts of comprehensive solution in Yemen

Parliament Speaker inspects expanding constructions in Makah Port

President al-Alimi arrives in Riyadh to contribute to Arab-Chinese Summit

Yemen participates in 15th Bali Democracy Forum

Al-Eryani: Iran's regime continues supply Houthi militia with weapons

Mahra Governor confirms significance of qualifying maritime navigation cadre

President al-Alimi flies to Riyadh to participate in Arab-Chinese Summit