[24/09/2019 07:44]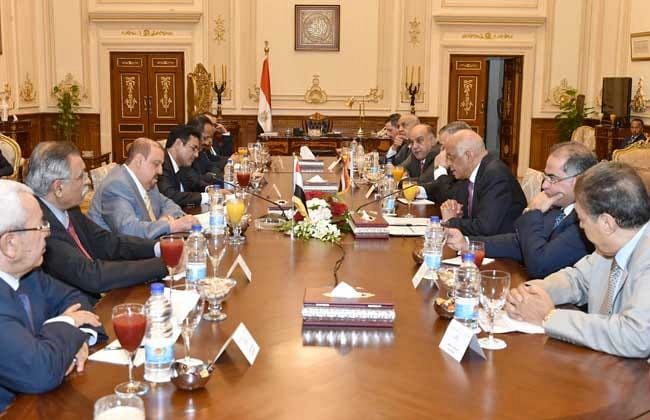 CAIRO-SABA
A Yemeni- Egyptian talk session headed by the two speakers of the two parliaments Sultan al-Barakani and Ali Abdel Aal was held here on Tuesday.

The session tackled historical relations between the two countries and latest developments in Yemen, as well as boosting cooperation between the two parliaments and supporting common concern issues in all Arab and international forums.

Al-Barakani valued brotherly truthful positions of the people and government of Egypt towards Yemen in different stages since announcing the 26th of September Revolution until current incidents in Yemen and praised Egypt's active contribution- within the Saudi-led Arab Coalition- for supporting legality in Yemen, ending Houthi coup and regaining the state institutions.

He also appreciated Arab positions by the Parliament Speaker of Egypt towards Yemen and appreciation to Egyptian leadership for its care it provides to Yemeni community here.

He reviewed incidents and developments Yemen has been witnessing since Houthi coup against the state and suffering of the people over Iran-backed Houthi acts, confirming that Iran seeks to destabilize Arab region and to create conflicts and chaos through by its support to terrorist groups.

Al-Barakani warned of Iranian dangers threatening Arab national security, water straits and international maritime navigation and recently attacks on Saudi Aramco facilities, a matter requires serious action from all for facing them.

He praised regional and international efforts for ending Yemeni crisis and valued Saudi great efforts for containing incidents in southern provinces and ending the crisis for protecting Yemen's security and unity.

He pointed to violations committed by Houthi militia against Yemeni parliament members for their support to the internationally-recognized government, prosecuting them and looting their possessions in Sana'a. He demanded denouncement of these militia practices contradicting the international law and all international accords and Security Council's resolutions.

For his part, Abdel Aal welcomed Yemeni parliament delegation and confirmed deep-rooted mutual relations between the two countries.

"Egypt's political positions will remain fixed for supporting the constitutional legality in Yemen under the presidency of President Abd-Rabbu Mansour Hadi," he said, stressing that Yemen's security and stability represent the center of Egyptian national and Arab security.

"Egypt is opening its brace to all Yemeni people and they got decent care and will be granted all facilitations," he added.

Egyptian Parliament Speaker Ali Abdel Aal confirmed Egypt's support to efforts for reaching to political solution to Yemeni crisis in accordance with the three relevant references; the GCC Initiative, the outcomes of the National Dialogue Conference and Security Council's relevant resolutions.

He denounced all acts and violations committed by Houthis against Yemeni civilians, recruiting children as soldiers, targeting Saudi territories and facilities, threatening international maritime navigation and violations they commit against members of the parliament and trial in absentia.

He renewed continuous coordination between the two councils in all parliamentarian and international forums.





---

Defense Minister discusses with Saudi commander support to Yemeni army

Prime Minister of Djibouti receives General Tareq Saleh

Prime Minister discusses with Head of COCA combating corruption

High Council of Energy reviews recent resolutions enforcement

Yemen's Arab League rep. participates in International Day of Solidarity with Palestinian People

Yemen renews its condemnation of Zionist entity's aggressions in occupied Palestinian territories

Yemen participates in meetings of International Organization for Migration in Geneva

Industry Minister, Saudi counterpart discuss enhancing bilateral trade cooperation

General Tareq discusses with Djiboutian President maritime cooperation

Yemen participates in Regional Maritime Law Enforcement Forum for Gulf of Aden and Red Sea