[27/12/2018 04:09]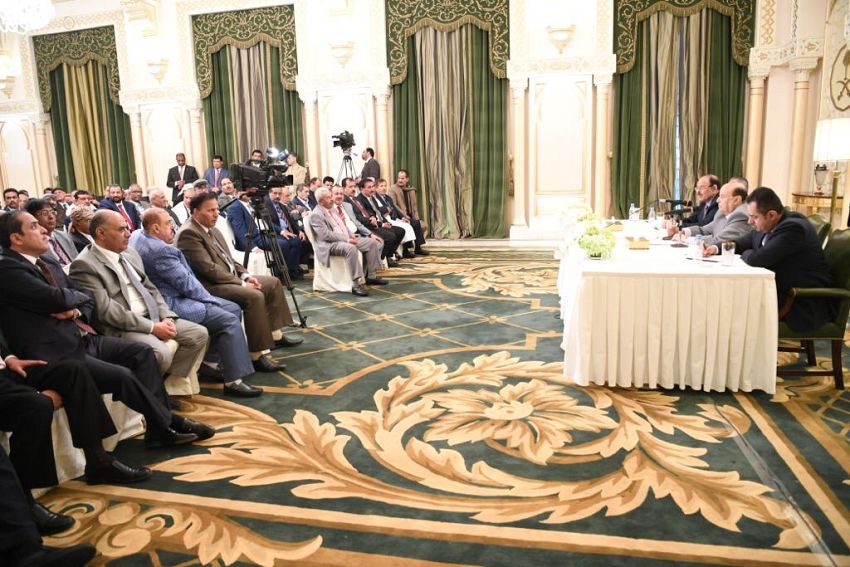 RIYADH-SABA
President Abd-Rabbu Mansour Hadi said the deal regarding ceasefire and peaceful handover of Hodeidah port city by the Houthi rebels puts the UN and the international community, as the deal's sponsors, to the test.

In a rare meeting with the country's lawmakers in the presence of his deputy and prime minister in the Saudi capital on Thursday Hadi said "We believe the UN and the international community are in a real test as to whether they will ensure the proper implementation of Hodeidah Agreement in such a way that brings peace and bring ports back to the state to operate them for the people's benefit," he said.

The Hodeidah deal came into effect on December 18, days after the government and the Houthis signed a principal agreement in Stockholm.

Hadi recalled the government's continuous offers of peace with Houthissuch as the talks in Geneva, Kuwait and elsewhere. He saidthat,versus these offers,the rebels' showed constant stubbornness by spoiling some of the convened talks and not showing up in others altogether.

He said the UN and the international community, as sponsors of the Hodeidah agreement, "face a real test" as to whether they will be able to get the rebels" to implement the deal properly" and as agreed.




---

President and members of the Supreme Judicial Council

Leadership Council holds first meeting with the judiciary

Presidential Decree on restructuring Judiciary Council issued

Presidential Council continues to discuss developments in economic, service reforms

Hadramawt and Socotra governors sworn in before the head of the Presidential Leadership Council

Appointing Mabkhoot bin Madhi Governor to Hadhramaut

President al-Alimi discusses with US Secretary of State latest developments

Presidential Council discusses reforms, arrangements for national celebrations

President meets leadership of the Defense Ministry and Armed Forces

Republican Decree changing ministers issued