[02/10/2018 06:07]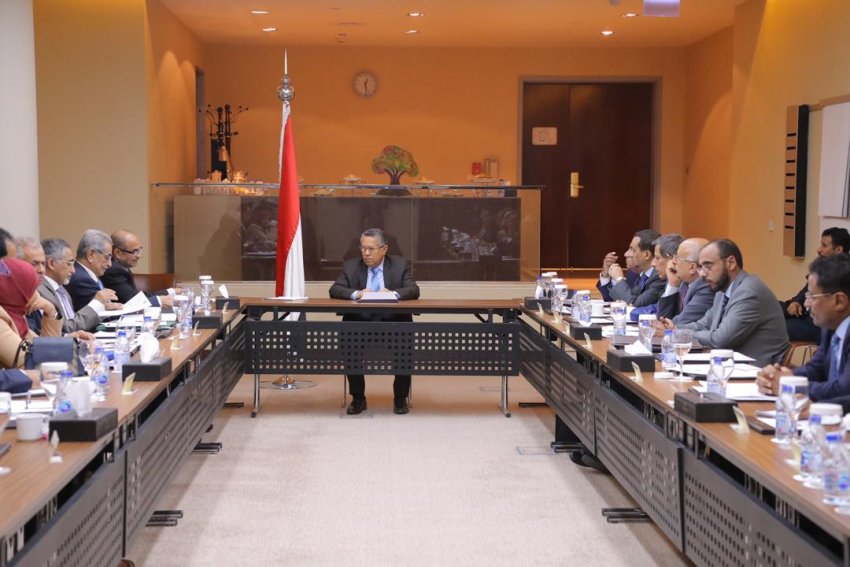 RIYADH-SABA
In a Cabinet meeting on Tuesday over the drastic depreciation of the national currency against foreign currencies, Prime Minister Ahmed bin-Daghrblamed the Houthi militia's coup of September 2014 and secondly other causes for "the collapse" of the national currency.

In September 2014 Yemen saw a coup by the Houthi militia that evolved in 2015 to a war that has since plunged the country in an unprecedented humanitarian and economic crises including the devaluation of the Yemeni Riyal from a pre-war exchange rate of nearly YR 214 to the present YR 800 versus one US dollar.

"The causes that led to the collapse of the Riyal are the Houthi coup and new political causes which the Houthis, the separatists and the terrorists and their backer conducted in sync," said bin-Daghr.

"But our defense of the supreme national interests will not falter the least bit, we will safeguard Yemen united, federal and new," he said.

"It is no secret that the attacks on the government come from these three parties together with Iran."
"Houthis have destroyed Yemen, therefore we have a long time to suffer as a result," he emphasized.

Citing the rebels' operation of their own de factocentral bank and collection of revenues to it in Sana'a as another setback to the government, he said: "There are two financial and fiscal policy administrations , there is a Houthi mess up that aims to destroy our country."

The Houthi coup and forcing of President Abd-Rabbu Mansour Hadi's government out of Sana'a in2015 "caused the state to lose 85% of its financial resources."


Furthermore, he said, "in the last two weeks Houthis assigned some banks and money exchangers to buy the US dollar from all over Yemen at any expense"causing eventually this dramatic depreciation."

"A sufficient evidence is thata number of money exchangers closed business blaming 'a party' they did not name for the collapse. This party to our best knowledge and the knowledge of others, is none other than the Houthis," he said.

He said that some of the individuals assigned by the Houthis to buy the dollars any expense have been arrested in Aden.

"To be realistic, this is not the only reason of the collapse though. There are other causes the most important of which is the suspension of oil and gas export."

He also named several more causes that lead to the overall economic deterioration and in particular the Riyal collapse; the informal speculation in oil trade, the irregularities in the military and security setup in the provinces liberated from Houthis and the spike in assassinations and other destabilizing acts in these provinces."



---

Saudi Arabia, Qatar confirm full support to solving Yemen's crisis

Chief of Staff discusses with Egyptian Counterpart military cooperation

Electricity Minister, Korean Ambassador discuss cooperation in Energy

GCC confirms its full support for Presidential Leadership Council to reach political settlement

Water Minister participates in the first high-profile meeting on the fair transition

Yemeni embassy in Riyadh first station abroad to see launching of smart ID cards

Yemen condemns Israeli occupation forces' resumed aggression on Gaza

UN Security Council condemns acts of piracy and attacks on ships by the Houthi militias

President al-Alimi warns of delay of facing challenges of climate changes

President al-Alimi holds meetings with participating presidents in COP 28