[18/11/2017 06:10]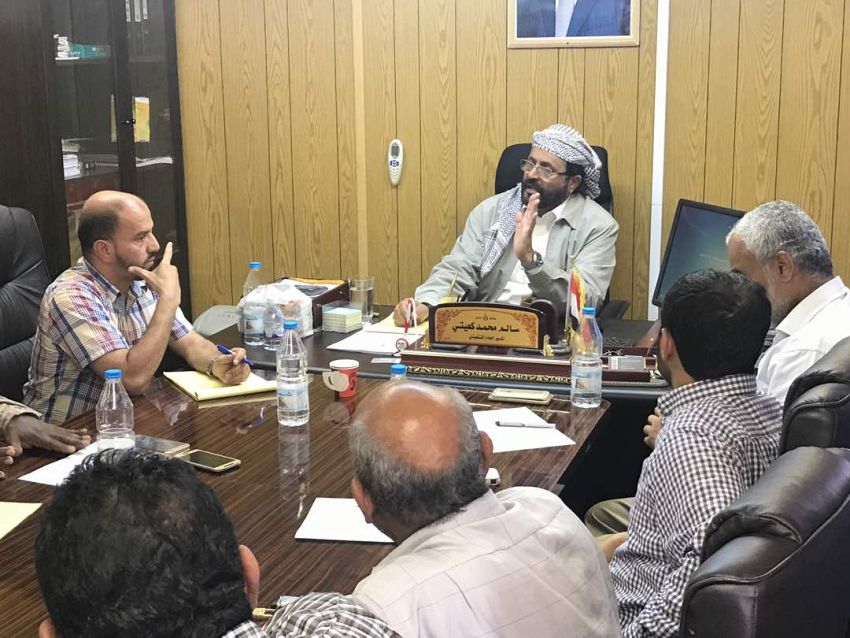 MAREB-SABA
Governor of Mareb Sultan al-Arada presided over a meeting on Saturday for Directors of Safer Company, Mareb Refinery and Yemeni Gas Company and discussed with them producing and refining oil and gas and challenges facing activities of the companies.

In the meeting held in Safer during a field visit for oil Sector 18 and included military commanders and specialists, Governor al-Arada also discussed with directors of the companies requirements these companies needs for increasing production and providing oil derivatives and cooking gas to all people.

Al-Arada was briefed on the process of production of oil and gas, refining oil, marketing system, distribution and the real situation of the companies under current exceptional conditions the country goes through.

Oil Sector 18 has been and remains one of the most important oil and gas sectors in Yemen and its national production of oil and gas is one of the greatest revenues for the state's budget and a key source of oil and gas derivatives for domestic consumption, said al-Arada, stressing that Safer's natural gas is the supplier of cooking gas for all people across Yemen.

He confirmed keenness of President Hadi on restoring companies' production in all sectors, especially Safer Sector, and president's hope of securing greatest production of oil and gas derivatives for meeting people's needs.

He stressed on coordination and cooperation between Safer Company, as the mother of companies, and other companies operating in Sector 18, with local authority and other concerned bodies for easing their duties and solving all their issues.

"The local authority, which has stood by all companies in Safer for resumption of their activities and production and provided all support and facilitations, is still giving companies great attention and priority in facilitating their duties and solving their problems…. and challenges," said governor al-Arada.

He orders formation of committees from Safer Company and companies working in the sector and from security and military in the third region for facing all administrative, technical and security challenges.

The committee will work on tightening protection of facilities and oil wells as well as in roads for transporting oil derivatives.


---

FM: Evacuating all Yemeni citizens in Port Sudan evacuated

Arab-Chinese Forum puts emphasize on the unity, sovereignty and territorial integrity of Yemen

MASAM removes 875 Houthis-laid landmines in a week

Leadership Council chair praises GCC for supporting Yemen and its just cause

Higher Education Minister reviews with ILO implementing apprenticeship program

President al-Alimi convenes high-profile meeting includes Speakers of Parliament, Shura Council

Family killed and wounded as they drove over Houthi landmine in north Yemen

National Investigation Committee holds discussions with a team of Yemen Sanctions Panel

Eryani condemns Houthi storming of annual meeting of Baha'i sect and arrest of 17 participants

Dr. Abdullah al-Alimi praises American role in fighting terrorism, controlling weapons smuggling