[17/11/2017 07:13]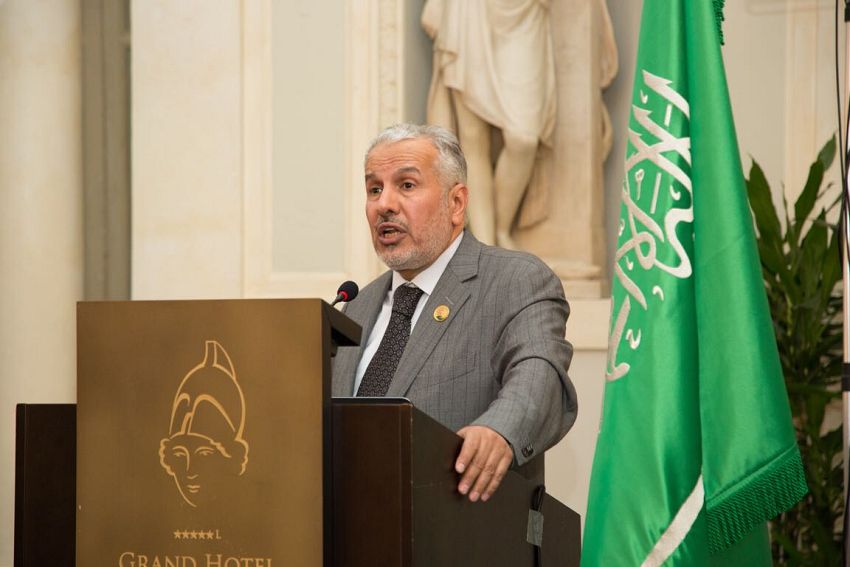 ROME-SABA
Yemeni outlets under the legal government are opened before humanitarian assistances, said General Sponsor of King Salman Center for Relief and Humanitarian Activities Abdullah al-Rabi'ah.

Saudi Arabia has presented Jazan Port for contributing with other outlets for receiving relief and humanitarian assistances to Yemen, added al-Rabi'ah in Roundtable Meeting on Yemen's Permanent Peace held here.

He condemned Houthi-Saleh's aggressions against UN organizations' assistances, relief organizations and on their workers in the period between 2015 and 2017. The attacks amounted to 16 and varied between killing, kidnapping, imprisonment, shutting down offices and looting.

He added that the militias worked on closing outlets and international organizations' offices in Yemen and attacked and seized 65 ships, 124 relief trucks and 628 shipments in stark violations of humanitarian activity's agreements.

He confirmed the militias are hindering humanitarian efforts and targeting neighborhoods, humanitarian assistances and relief workers and tightening sieges on citizens, stressing on UN and International Community's responsibilities on punishing the militias, which are also recruiting children as soldiers.

The center- despite all violations targeting aids it provides and other working teams- does not hesitate to provide aid, said al-Rabi'ah.

He reviewed efforts provided by the Kingdom to Yemen during the past two years and half, clarifying that the Saudi assistances provided to Yemen from April 2015 to October 2017 has amounted to USD 8,27 billion and that the center has carried out areal drops of food and medical assistances, lifting the siege imposed by the rebel militias on the cities.

King Salman's center has carried out 161 projects across Yemen through 86 local and international partners included food security, health, shelters, social support and other projects, said al-Rabi'ah.


---

FM: Evacuating all Yemeni citizens in Port Sudan evacuated

Arab-Chinese Forum puts emphasize on the unity, sovereignty and territorial integrity of Yemen

MASAM removes 875 Houthis-laid landmines in a week

Leadership Council chair praises GCC for supporting Yemen and its just cause

Higher Education Minister reviews with ILO implementing apprenticeship program

President al-Alimi convenes high-profile meeting includes Speakers of Parliament, Shura Council

Family killed and wounded as they drove over Houthi landmine in north Yemen

National Investigation Committee holds discussions with a team of Yemen Sanctions Panel

Eryani condemns Houthi storming of annual meeting of Baha'i sect and arrest of 17 participants

Dr. Abdullah al-Alimi praises American role in fighting terrorism, controlling weapons smuggling