[10/11/2017 05:55]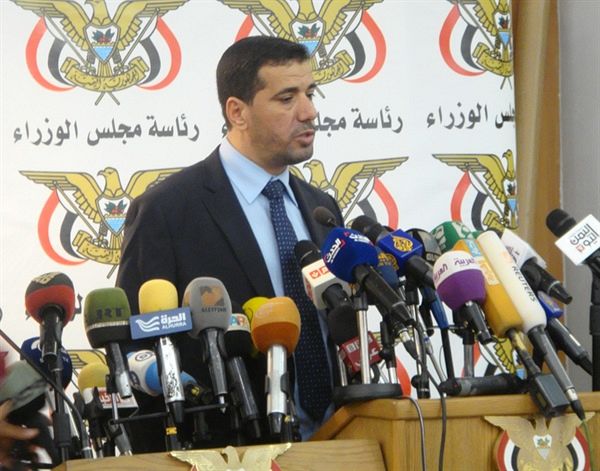 ADEN-SABA
The Government is preparing a giant telecom project taking advantage of the (int'l) submarine cable and by installing a modern network that starts from Aden, the government's spokesman RajehBadi in a statement to Saba.

Under this project the control of telecommunications including internet service in Yemen will be taken from the Houthi-Saleh rebel militias in the capital Sana'a to the temporary capital, Aden, in Yemen's south.

The government's unveiling of the move a few days ago prompted the Foreign Minister in the rebel's self-proclaimed government to attack internationally recognized government and call the project "a secessionist move."

In return Badi called it a financial "loss" to the radical rebel militias.
"Calling the project 'a secessionist move' reflects the magnitude of freak that hit the rebels by theloss (soon) of one of the most significant sources for embezzlement and for financing their waged war to kill the Yemeni people."

He said that the project which will completed within two months will multiply the speed and capacity of data traffic hundreds times the current rate and in Aden will be only the launch before it expands to cover the all the other provinces of Yemen "without exclusion."

"The Government is keener on maintaining the country's unity and is seeking to preserve this historical achievement (the telecom infrastructure) which the barbaric rebel warriors sought undermine it to preserve the personal interests of their leaders and serve their regional masters' agendas," he said.

"What scares the Houthi-Sale militias about this project is that they will lose their most significant resource for looting, no evidence is stronger than their own declaration of YR 98 billion profits from the Public Telecom Corporation," he said, inquiring "where did those revenues go? The public employees within their held territories have not been paid salaries for more than one year!"

"Draining the sources of finance for the militias' war is a continuous and relentless process," he said, "until the end of the rebellion and the government's retake of all the country's lands and state institutions, to build the new federal Yemen based on equal sharing of power and wealth."


---

Yemen calls on international community to help it managing natural disasters' risks

Parliament presidency holds meeting with PM to find out about current developments

US ambassador condemns terrorist Houthi militia's attack on the Baha'is

FM receives credentials copy of Polish ambassador to Yemen

SJC approves formation of an accountability council headed by Judge Haydan Jomaan

Planning Minister, UNICEF representative discuss humanitarian interventions for the current year

FM receives credentials copy of South Africa's ambassador to Yemen

FM: Evacuating all Yemeni citizens in Port Sudan evacuated

Arab-Chinese Forum puts emphasize on the unity, sovereignty and territorial integrity of Yemen

MASAM removes 875 Houthis-laid landmines in a week