[15/04/2017 07:40]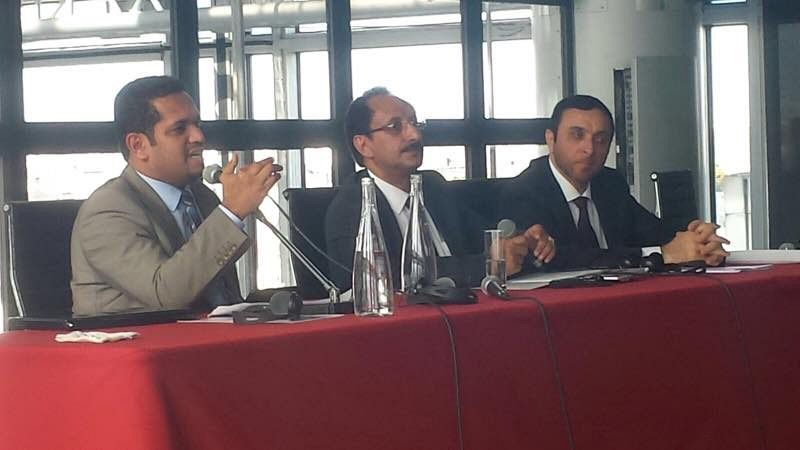 Paris, (Saba) - Deputy Minister of Human Rights Mohammad Askar has called on the UN Security Council to implement its resolutions on Yemen, especially Resolution No. 2216 and to list Houthi-Saleh's militias as terrorist.

The militias' crimes led to the deterioration of humanitarian situation in Yemen to reach dangerous levels, said Askar in a speech he delivered Saturday before an elite of Arab and foreign ambassadors, experts, International Civil Society Organizations and international media, who are participating in a conference on latest developments and future of peace in Yemen.

During storming the governorates, the rebels committed dubious violations against citizens and sporadically bombarded cities, populated neighborhoods and very crowded markets, and killed thousands of people, among them children and women, said Askar.

They used schools and hospitals as fight training centers, destroyed infrastructures, banned food reaching needy people, displaced citizens by bombing their houses, besieged cities and banned access of food aid, medication and humanitarian needs, added the deputy minister.

He reviewed humanitarian conditions since the beginning of Houthi-Saleh's coup on legal authority in Yemen from the beginning of implementing the GCC Initiative in 2012 to the National Dialogue Conference sponsored by the UN that led to the draft constitution for the future Federal of Yemen and to Kidnaping the secretary general of the dialogue, while handing over the draft to the president, and imposed house arrest against the president.

" Houthi-Saleh's militias have breached all agreements they signed and decided to storm the capital Sana'a and seized the state by the weapons they looted from the army's camps with the help of Saleh's personnel and Iran's support," said Deputy Minister of Human Rights Mohammad Askar.

" Rebel militias have killed and injured 37888 people; male and female, 10811 were killed among them 1002 children, 649 women and 9160 men," said Askar.

He talked about mines planted by the militias in populated areas, villages, plants and roads. The mines have killed and injured more than 673 people, 315 were killed and 358 injured among them children and women, confirming that people are still killed every day in areas where militias were pushed out.

The militias have kidnapped and and detained 16804 of CSO activists, journalists and rights organizations and academics, said Askar, adding that those, who were released suffer psychological disorder.

He revealed that the militias have used children as fuel to their war by recruiting more than 1000 child under 16 and recruited women and threw them to battlefields.

Houthi-Saleh's militias have destroyed 29422 establishments, 3557 were public; headquarters, schools, hospitals, water networks, telecommunication, roads and bridges,

said Askar, adding that 25865 houses, buildings, trade stores, companies, factories, plants and vehicles were also destroyed.

Deputy Minister of Human Rights Mohammad Askar called on French community to help Yemeni people to overturn the coup against the legal government to end suffering of more than 25 million people.



---

Government signs MOU with Siemens Company to improve electricity in Yemen

Al-Eradah meets Mauritanian Justice Minister

Interior Minister discusses with UN humanitarian coordinator promoting cooperation

Ambassador al-Eradah discusses with Mauritanian oil minister Safir's developments

Presidential Leadership Council chairman congratulates US President on Independence Day

Chairman of Presidential Council sends congratulatory message to the President of Belarus

Al-Mahrami: We are ready to stop war if we find real partner in Sana'a

Mujalli: He who recruits children, brainwashes them with terrorism has no will for peace

FM discusses with Jordanian counterpart preparations for joint committee's meeting

Industry DM. calls businessmen to invest in home