[06/06/2022 06:53]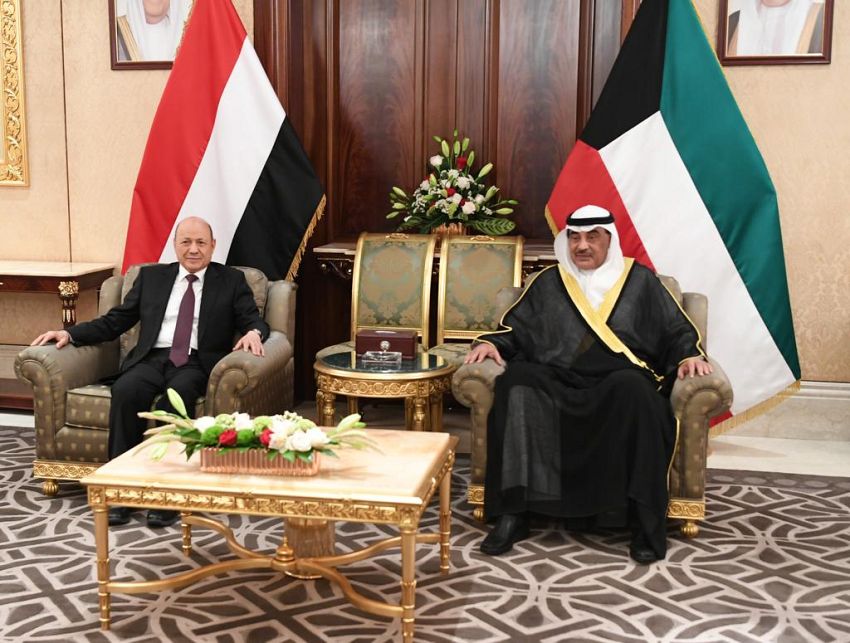 KUWAIT - SABA
His Excellency President Rashad al-Alimi, Chairman of the Presidential Leadership Council (PLC) arrived today, Monday, in the Kuwaiti capital on three-day official visit to the state of Kuwait, within a tour abroad includes Hahrain, Egypt and Qatar.

The Kuwait Prime Minister His Highness Shiekh Sobah Al-Khaled al-Hamad al-Sobah, Deputy Prime Minister, Minister of Interior Sheikh Ahmed Nawaf al-Sobah, Deputy Prime Minister, Minister of Defense Sheikh Talal al-Ahamad al-Sobah and several senior Kuwaiti official received President al-ALimi and his accompanying delegation.

In a statement to the Yemeni News Agency (Saba) the Chairman of the PLC voiced his deep appreciation for the state of Kuwait, the Emir, government and Kuwait people for the great support they provided to the Yemeni people and political leadership in different stages, including the Kuwaiti good offices to re-establish peace and security in Yemen.

He cited the Kuwaiti substantial developmental support to basic services, infrastructures and continuous humanitarian and political support to the efforts to restore the state and eliminate Iran-backed Houthi militias' coup.

The Chairman of the PLC stated that he hopes this visit will further bolster bilateral relations between the two countries, enhance the leading Kuwait role along with the brothers in the Saudi-led Arab Coalition in support of legitimacy and United Arab Emirates in offering a hand of help to sustain the efforts of the PLC and Yemeni government to achieve the economic reforms, improve the basic services and living conditions.

The President accompanied by high-profile delegation including his Deputy Fraj al-Bahsani and high-ranking government delegation includes Foreign Minister Ahmed bin Mubarak, Minister of Planning Wa'id Batheeb and Minister of Health Qasem Buhaibeh and Executive Director of the Apparatus of Absorbing Donors' Pledges Afrah al-Zouba.


---

Leadership Council chairman receives UN Special Envoy

resident al-Alimi congratulates Italian President on his country's National Day

President al-Alimi receives American Ambassador

Leadership Council chair praises GCC for supporting Yemen and its just cause

President al-Alimi congratulates Turkish president on winning elections

President al-Alimi convenes high-profile meeting includes Speakers of Parliament, Shura Council

President al-Alimi praises UK's support for the Yemeni people

President al-Alimi receives Ambassador of the People's Republic of China

President al-Alimi discusses with UAE President latest developments in Yemen

President al-Alimi arrives in Abu Dhabi