[30/12/2021 11:56]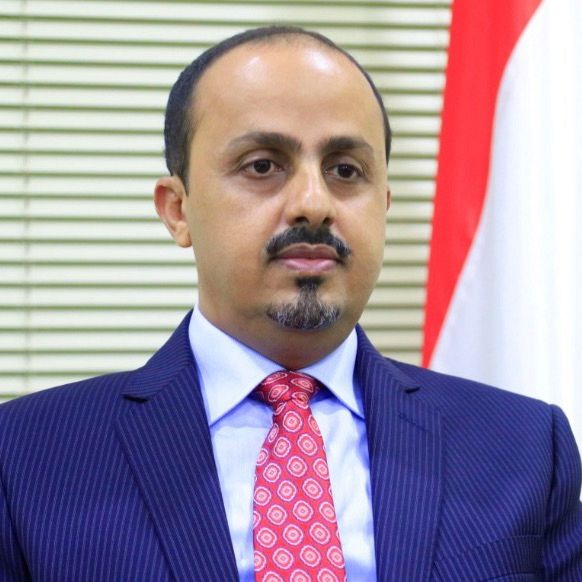 Riyadh - Sabbat
The Minister of Information, Culture and Tourism, Muammar Al-Eryani, said that the statements of Hassan Erlo's son, to one of the TV channels, confirm what we have said from the first moment, that his appearance in the kidnapped capital, Sana'a, is an Iranian announcement of the assignment of Qassem Soleimani, commander of the Quds Force, as military governor of the Houthi militia-controlled areas, to implement Its agenda is sectarian, political and military.

He explained that what was reported about Tehran's intention to nominate a new military ruler falls within the same context, whether in the nature of the task he performs as the actual ruler of Houthi-controlled areas or the implementation of Iranian policies to destabilize security and stability in Yemen and the region, which have caused hundreds of thousands of civilian casualties and displacement. Millions.

Al-Eryani pointed out that what the terrorist Houthi militia is trying to hide through the talk of its leaders and the discourse of its media outlets about sovereignty and subordination, with the aim of misleading citizens in the areas under its control, is revealed by the statements of the leaders of the Iranian regime, both political and military, which prove that the militia is just a cheap tool to implement its expansion project.

Al-Eryani stressed that the Yemeni people, with all their political and social sects, are required to realize the nature of the fateful battle they are waging as Qadisiyah in the twenty-first century in the face of the Persian invasion, which bared its teeth and revealed with clarity and boldness its ugly face and illusions in restoring its perished empire.

Al-Eryani renewed his call on the international community and the permanent members of the Security Council to carry out their responsibilities in accordance with the principles of the United Nations Charter, and to take measures to cut off Iran's hand, stop its blatant aggression against Yemen, and curb its terrorist activities that violate international laws and threaten regional and international peace and security.


---

Al-Arada, meets presidency of Consultation and Reconciliation Commission

Yemen participates in custom tariff's meetings in Cairo

Houthi militia must fulfill its obligations under UN Truce articles, says al-Erada

Houthi militias blamed for 20 thousand violations against children-Report

President al-Alimi receives presidency of reconciliation authority

Marib Dep. Governor, OCHA discuss humanitarian situation in the governorate

SPDRY, Ministry of Electricity sign new oil derivatives grant agreement worth $200 million

Presidential Leadership Council Chairman Receives US Ambassador

President al-Alimi receives Emir Khaled bin Salman

Al-Erada presides over expanded meeting in Saba University