[03/12/2021 03:54]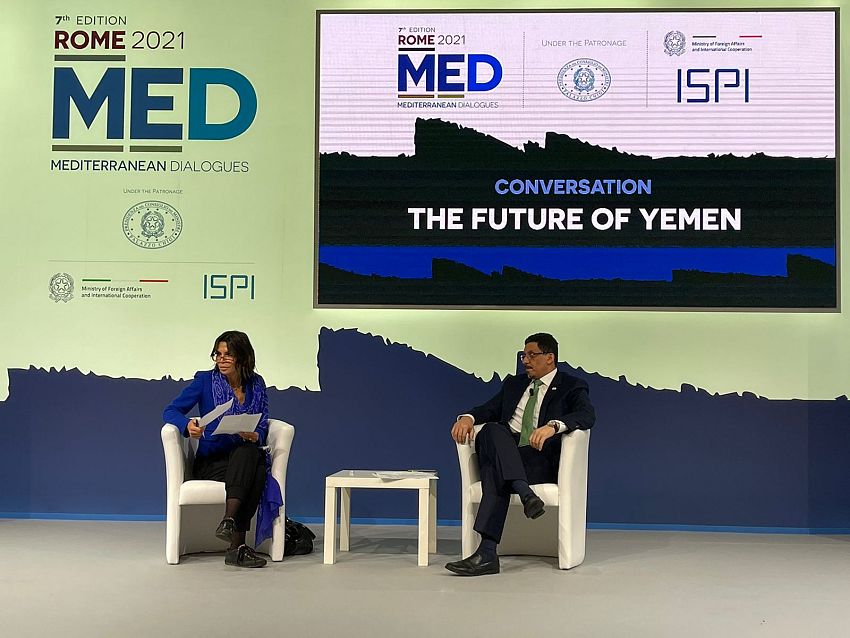 Rome - Saba
Yemen's foreign minister Dr. Ahmed Awad bin Mubarak, participated in the Rome Forum for Mediterranean Dialogues in its seventh session, which is currently being held in the Italian capital, Rome, during the period 1-4 December 2021 AD.

In the special session on (the future of Yemen), the minister indicated that the Houthi militia's abandonment of the superstitious belief of the 'divine right' to reign and the embracement of the equal citizenship principle is a prerequisite for lasting peace in Yemen.

"The government is working from the interim capital, Aden, to improve the economic conditions and face all the challenges," he said, adding that the government's political and economic support will help achieve stability and address the humanitarian repercussions of the war in Yemen and will pave the way for a political settlement.

Bin Mubarak noted that the Yemeni government welcomed all initiatives for a comprehensive ceasefire and the resumption of consultations to end the war in the country, and made concessions for peace over the past six years, but all of these efforts were met with unflinching Houthi intransigence, escalation and military aggression.


---

General al-Zubaidi discusses with al-Awadhi situations in Jawf

Yemen expresses solidarity with Sudan over flood-victim

Badheeb discusses with Atrush the challenges of food security in Yemen

Ambassador Mujalli discusses cooperation with bulanda officials

Ambassador Shuja Al-Din meets Head of the Middle East Department of the Austrian Foreign Ministry

Ministry of Health signs agreement for medical camp project for eye surgeries in Aden

The Saudi Program signs a contract for the operation and management of Aden General Hospital

Al-Zubaidi renews support Consultation and Reconciliation Commission

Al-Zubaidi briefed on the efforts of the Al-Wadeah land outlet

Marib Red Crescent distributes shelters to flood-victim families in Marib