[30/11/2021 03:41]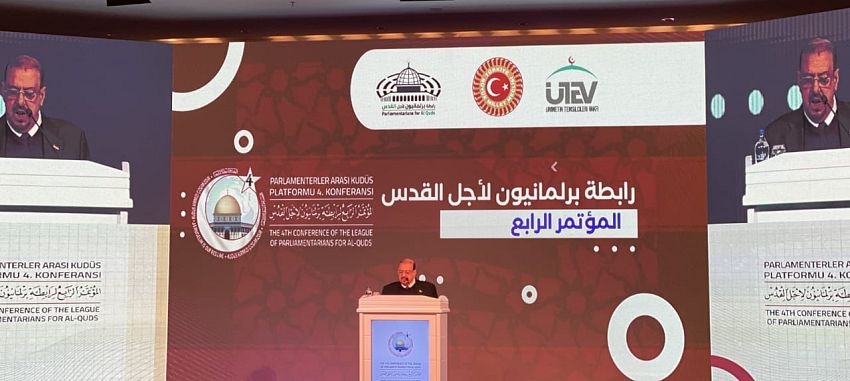 AKARA-SABA
Speaker of Parliament Sultan al-Barakani contributed today, Tuesday, to the Fourth Conference of the League of Parliamentarians for al-Quds, held in the Turkish capital Ankara from 30 November to 1 December.

He delivered speech in which Blamed Iran-backed Houthi militias for the ongoing divesting war and the Yemeni peoples' ordeal.

in Yemen drew comparison between the Israeli occupation atrocities against the Palestinian people and Houthi militia's violations and brutalities against the Yemeni peoples.

He said" I'm talking to you now while my country has been a war-stricken for more than seven years, everyday dozens of the Yemeni peoples are killed due to Houthi militias' desire to attain self-claiming divine right to ruling, the Yemeni peoples' suffering is worsening more and more as the Houthi militias and its backer Iran have thwarted all efforts aimed to end the war, make peace".

He drew comparison between the Zionist settlers atrocities against the Palestinian people and Houthi militia's violations against the Yemeni peoples.

He stated that Yemen has been socially and culturally targeted besides politically, Houthis militias have been exercising the same atrocities of the Zionist occupiers, displacing inhabitants, changing cultural identity and traditions of tolerance and coexistence among the communal constituencies, to establish a religious sectarian group came from Iran.

Al-Barakani criticized Iran for taking the advantages of the Palestinian and al-Quds cause to serve its own agenda in the region.

He said that the Iranian regime has capitalized on the Palestine cause to promote its expansion agenda in the regions, establishing sectarian militias to carry out its plans in Arab countries.


---

Family killed and wounded as they drove over Houthi landmine in north Yemen

National Investigation Committee holds discussions with a team of Yemen Sanctions Panel

Eryani condemns Houthi storming of annual meeting of Baha'i sect and arrest of 17 participants

Dr. Abdullah al-Alimi praises American role in fighting terrorism, controlling weapons smuggling

Dr. Abdullah al-Alimi confers with British Ambassador over international efforts to revive political process

President al-Alimi praises UK's support for the Yemeni people

Health Ministry team participates in 76th session of the WHO's assembly

Al-Sharjabi approves $5 mln contribution to addressing the risks of the tanker "Safer"

Yemen participates in the Banking, Economic Arab-European Conference in Paris

President al-Alimi receives Ambassador of the People's Republic of China