[06/11/2021 06:46]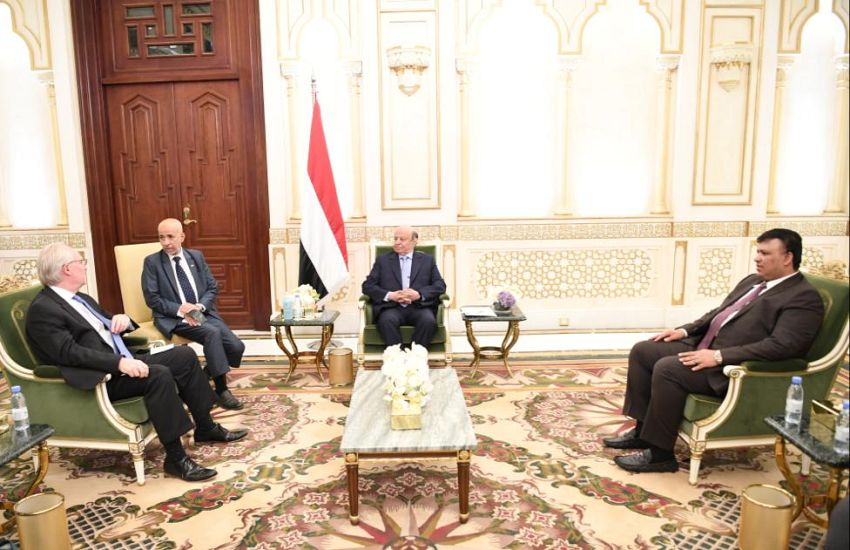 RIYADH-SABA
President Abd-Rabbu Mansour Hadi received today the American envoy to Yemen Timothy Lenderking to discuss developments in the Yemeni national arena and the ongoing efforts to establish peace, end the war triggered by Houthi militias.

President Hadi restated that he is very keen to achieve permanent and comprehensive peace and put an end of the war imposed by Houthi militia upon the Yemeni people. He confirmed that the legitimate government has always been a keen-seeker for peace that can establish a secure future, stop bloodshed of the Yemeni people.

He said " Our hands have always been extended for peace, we're open to all calls for peace, end the war, to stop Yemeni peoples bloodshed, re-establish security, stability and re-build what the militia has destroyed".

He also expressed hope that the international community will press for peace by mounting pressures upon Houthi militia to stop fighting and come to peace.

The President stated that the ongoing military escalations on the governorates of Marib, Shabwah and Taiz, firing ballistic missiles and drones on civilians, engaging children in front line battles, all these hostile actions have proved to the whole world that Houthi militia has never seriously sought for peace, establish cease-fire and end the war, rather it has been seeking to go on its crimes against the Yemeni people.

The President pointed out to the Iranian spoiler role in the region through providing its agents represented by Houthi militias with money and weapons to fuel conflicts in Yemen, neighboring countries, threatening international maritime navigation, create insecurity and instability to serve the Iranian objectives in Yemen and the region.

The American envoy appreciated President Hadi's efforts aiming to make peace and end the war, reiterating his country's support for Yemen's security, stability, unity, end the war, establish peace.



---

Leadership Council Chairman stresses private sector's leading role in development

Leadership Council Chairman stresses private sector's leading role in development

Leadership Council Chairman receives German delegation

President al-Alimi confirms independence of Judiciary

President al-Alimi holds a meeting with Defense Minister, Commanders of Fourth Military Region

President al-Alimi holds session with Board of Directors of the Central Bank

Chairman of Leadership Council stresses importance of strengthening role of control and audit agencies

President al-Alimi directs forming committee to control fish prices

President al-Alimi receives credentials of new Portuguese ambassador to Yemen

President al-Alimi receives European ambassadors