[16/09/2021 02:18]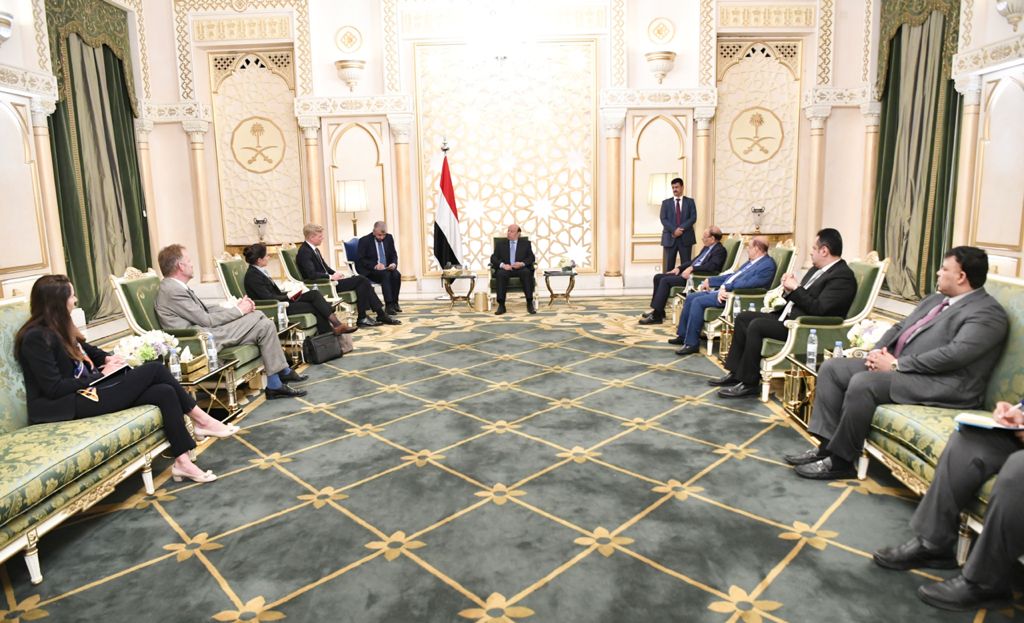 RIYADH-SABA
The President of the Republic Abd-Rabbu Mansour Hadi along with the Vice President Ali Mohsen Saleh, Speaker of Parliament Sultan al-Barakani and Prime Minister Dr. Ma'een Abdulmalik received today the UN's envoy to Yemen Hans Grundberg.

The session devoted to discuss the developments in the Yemeni national arena, the prospects of the political settlement and the approach must be adopted to reach a sustainable and comprehensive peace in Yemen that is based on the three terms of peace reference to which the government is sticking in order to achieve equal citizenship among all Yemenis, renounce violence and put the outcomes of the National Dialogue Conference in place.

The discussions touched upon the Iranian spoiler role in Yemen and Houthi militia correlation to the Iranian agendas aiming to destabilize security and stability in Yemen and the region.

President Hadi has confirmed the government's full support to the UN envoy, easing his tasks to reach an overall cease-fire as Houthi militia has continued its war against the Yemeni peoples who have been forced to defend themselves against the militia's hostile attacks on the civilians, cities and IDPs camps, nevertheless its attacks on the civil facilities in Yemen and neighboring brothers.

The President emphasized on the importance of putting an end of the Houthi militia's threats to the Red Sea security and the international marine navigation either by spreading marine mines randomly or targeting the ships by unmanned boats, targeting cities and seaports, the latest of all assaulting al-Mocha harbor, indifferently dealing with looming environmental disaster of Safer oil tanker.

The President said" Peace has always been our option, we'll continue to be peace seekers as this is the choice of life for our people, to this end we have offered several significant concessions to stop bloodshed of the Yemenis".

The UN envoy said" we're going to do our utmost efforts to get the best approaches to move ahead to achieve peace, assess the previous efforts, listen to everybody to attain the Yemeni peoples aspirations who are desperately waiting for peace, security and stability that protect everyone's rights, ensure good governance through the state's institutions".

Grundberg added" We're also going to work in pursuant to the UNSCRs in relevant and comply with the three terms of peace reference to move forward to realize the fair peace the Yemeni peoples deserve".


---

Yemen won't be fine as long as terrorist militias continue to kill & besiege our people, says Hadi

Hadi phone calls Marib governor to inspect situations

Hadi checks on health of Aden Governor, Minister of Agriculture

President Hadi orders probe into assassination attempt targeted Aden Governor, Agriculture Minister

President orders providing relief aid to those affected by the floods in Hadhramaut

President directs providing help to people in Hadhramout over heavy rains

President Hadi congratulates his Egyptian counterpart on the 6th of October Victory

President congratulates German counterpart on unity anniversary

President Hadi to Borrell: Our hands are still extended for peace

President Hadi meets German deputy foreign minister