[30/03/2021 03:58]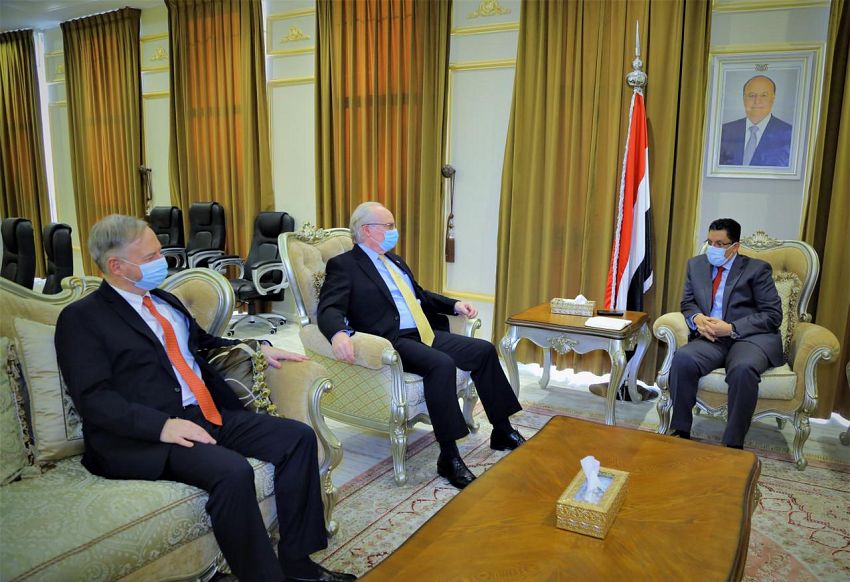 RIYADH- SABA
Minister of Foreign Affairs and Expatriates Ahmad Bin Mubarak discussed Tuesday with US Envoy to Yemen Tim Linder King continuous efforts for realizing peace in Yemen on the light of Saudi Initiative and efforts of the UN envoy to Yemen for reaching an inclusive peace on the bases of the three references.

Bin Mubarak pointed out to Houthi militia's continuous crimes and violations in Marib and shelling displaced people camps and populated neighborhoods amid international efforts for stopping the war and alleviating humanitarian crisis.

He confirmed that these crimes contradict Houthi militia's claimed willing for ending the war, pointing out that readiness for peace requires abandoning violence and respecting human lives, which Houthi militia traffics with people's suffering.

For his part, the US envoy confirmed necessity of stopping attacks for proceeding towards the political solution, ending the war and tackling repercussions of the humanitarian crisis in Yemen.

He confirmed his country's firm position towards Yemen and its internationally recognized government and support to Yemen's unity, security and stability and to any efforts for realizing security and peace in the country.


---

Yemeni-American in oil and minerals discussed

BinMubarak hands over Indian minister letter from PM to his Indian counterpart

PM calls on the UN to increase support for govt's plans to ensure food security

Cabinet handles a number of developments at the local and external levels

Finance Minister calls on donors to support govt's efforts to manage economic hardships

President directs YEC to provide support to Aden charitable bakeries

Defense Minister discusses with US, UK military attachés bilateral cooperation

Foreign Minister hands over a message to UN Secretary-General

Foreign Minister meets Japanese counterpart

CBY Governor discusses with US diplomat enhancing partnership