[20/11/2019 02:14]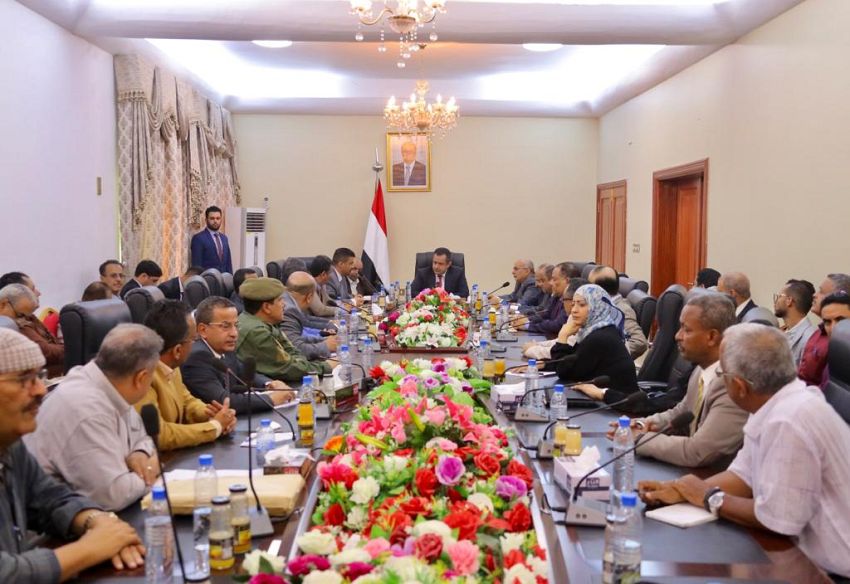 ADEN-SABA
Prime Minister DrMa'een Abdulmalik has made it clear that Riyadh Agreement has offered Aden city a historic chance to reclaim its position and inspirational role as a civilized urban hub for coexistence, culture and arts, calling on everybody to make Aden's security and stability his own business.

Ma'eem's remarks came as he presided over a meeting Wednesday in the interim capital Aden brought together local authority's leadership, members of local council and officials of the executive bureau of Aden governorate.

The session devoted to discuss the current situation in the city of Aden and explore a comprehensive outlook about necessary measures that can help improve the populations' living conditions in the temporary capital.

DrMa'een affirmed that the government has prepared a package of urgent interventions to address the problems which have been accumulated since last August and it will work with the local authority on carrying out these interventions within the next three months.

The Prime Minister noted that the government's return to Aden is the first move stipulated by Riyadh historic agreement sponsored by the Kingdom of Saudi Arabia (KSA). He highly praised the great efforts made by the Saudi leadership. He said" This isnot a surprise by the brethren in the KSA, the Saudi generous support has never been disrupted over the past ten years, the KSA has always been on the side of the Yemeni people and government".

Ma'een described Riyadh Agreement as a heaven-sent opportunity for everybody. He said" The Riyadh Agreement is a good chance for all of us to conduct serious and drastic reforms to tackle the inappropriate situation in the state's institutions. It is time for the state to be in control, exclusively has the right to possess weapons and enforce the rule of law to maintain security and stability".

The Prime Minister stated that we've one single battle we all must fight it is the battle to restore the state and foil Iran's malignant scheme in Yemen and the region through its Houthi militia criminal tools. He said" I do openly say that we shouldn't miss this good chance that may never be repeated, to put Riyadh Agreement in place".


---

FM discusses with Jordanian counterpart preparations for joint committee's meeting

FM discuses with Lebanese counterpart coordinating positions

Industry DM. calls businessmen to invest in home

Presidential Council member Tariq Saleh discusses security developments in Taiz axis

Civil Organization condemns Houthi bombing of homes in Amran

Badheib: The World Bank agrees to provide an additional grant of $100 million

Houthi militias bombard positions of the army in Taiz

Yemen participates in meeting of Arab foreign ministers

Chairman of PLC receives Saudi Deputy Minister of Defense to discuss fast-track for development assistance

Presidential Council Member al-Alimi receives US ambassador